The first trout that Paolo Marchesi Caught at Age Three, at a Pay Pond by the Sesia River in the Italian Alps Saved His Life
Story & photos by Paolo Marchesi
I'm not sure when I started feeling the weight of depression and suicidal thoughts. But by my late twenties, I was ready to put a bullet through my head. I didn't do it. I would have been too chicken to pull the trigger, but mostly I couldn't have done it to my family. You can't be that selfish. I believed I was doomed and destined to live a miserable life. Never would I have thought that a fish would have come to my rescue. Yet that's what happened.
I was born a fisherman. No one in my family fished, it was an innate instinct — nature versus nurture. I have vivid memories as a toddler of playing in a tide pool. I had found a straw, and I was trying to herd tiny little fish into it to trap them. That's my first memory of fishing. I didn't succeed in catching anything until I turned three and landed the trout that would save my life. After that, it was all over.
I would break into my mother's sewing kit, take needles, put them over the burner and bend them into the shape of a hook, and I would collect sewing thread for fishing line. Those were my first pieces of tackle. I was a fisherman, not a successful one, but one nonetheless. By seven, I had refined my skills and had collected enough fishing equipment to head down to the Po River.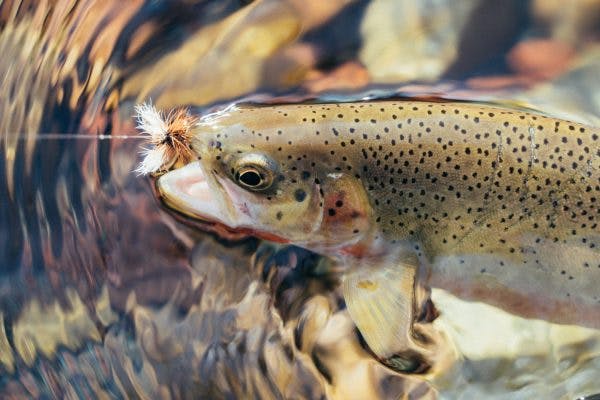 It's a major waterway running through the heart of my hometown Turin, located right at the foothills of the Alps. The river was mostly cement banks, polluted water, a spot where drug addicts went to shoot themselves with heroin, and hookers took their clients for some fun. We were raised to be very independent at a young age, and I knew how to navigate around all that. I ignored hookers and addicts, froggy hopped over used condoms and discarded needles, and made it to the water. The best spots were to fish right downstream from the open sewage that dumped into the Po. That's how the city discharged a million peoples' poop. That's where I fished. The fish got fat and feisty, and I became a real fisherman. I hooked dead rats, condoms, one time a sleeve that was attached to a dead body, and, I caught the occasional fish.
It thrilled me. I'd take my catch home with pride. But my parents refused to eat them. I wanted to be the provider for the family… who cares if the fish ate poo?
Those were some of my first experiences with fishing and nature. Nature was the big part of the puzzle. I grew up smack in the heart of a large city. I was a city boy who couldn't understand why he was so drawn to nature and so unhappy within its gray walls.
I was raised in a small room overlooking rooftops and cement. I'd try to find nature anytime I could. I would climb trees and make animal sounds, that's when I felt the happiest. Then I adventured further and further. I started exploring the hills around town and then the mountains. I would take the bus or ride my bike, whatever it took.
I always tried catching fish, however and whenever I could. Italy was too polluted and too overfished to provide decent fishing. I remember going to a spot on the Po River and hearing, "Toni caught a pike four years ago in this one spot." and these guys had been trying for four years to catch another one. That was enough of an incentive for me to also give it a shot. I never found that pike. As I grew older, I started focusing on trout. First with a worm, and then with spinners. But I really wanted to become a fly fisherman.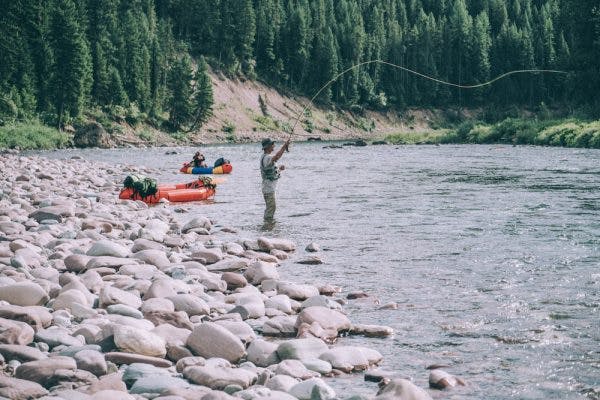 At 23, I decided to get an education in photography in the United States, and that's when I met Megan. The first time I saw her my knees buckled. Without a doubt, she was the prettiest woman in the school. I was so intimidated that I couldn't even find the courage to talk to her. The first time I approached her, I thought my heart was going to burst out of my chest, and I would fall flat on my face. Our first conversation was about fly fishing. It really couldn't have been easier; Megan was a fly fisherwoman. I didn't know much about the sport at the time, but had always had a fascination with it. After that, I used all the creativity I could muster to pursue her, within two weeks I was living at her house.
For our first Christmas together Megan bought me a fly rod. Then, she took me to Montana to explore rivers she had fished with her family. It was the beginning of the end of our relationship and the start of my new life. The following Christmas she wrote on a card with a trout painted on the cover, "I wish I were a trout so I could spend more time with you." I had become obsessed with fly fishing.
Montana had left an indelible memory. I was a city slicker, but somehow I could relate to and understand the place. I was fascinated by the lifestyle of people who fished and hunted and lived so connected with nature. I wasn't sure what it meant, but I wanted a piece of that for myself.
When I graduated from photography school, I moved to San Francisco to pursue a career in photography. Megan was still in School in Santa Barbara, and every weekend we would meet on rivers halfway. Eventually, things fell apart; we never talked again. If she only knew how she had changed my life.
When I was in San Francisco, it became apparent to me that depression was going to be a debilitating issue. I just accepted the fact that there was something wrong with me. I couldn't understand the roots of the problem and only surrendered to it. In retrospect, now it seems so simple that I just needed nature. At the time, "How can I live like this the rest of my life?" is all I could think off. That's when I started having suicidal thoughts, "If I could only push a button and disappear, like I never existed, without hurting anyone. Oh, that would be nice. Puff, just vanish." That's what ran through my mind over and over. If that button existed, I would have pushed it. Now, I think about all the people like me who have a remedy to escape depression and will never know it.
Then, I started thinking I was manic depressive. Every time I went fly fishing, which happened every weekend, I became manic. Every time I crossed the Bay Bridge and saw the city, my heart sunk, and I fell back into darkness. As obvious as it is to me now why I was depressed; it was impossible then to understand. For someone who grew up in the city, needing nature for happiness is not an easy concept to grasp. In the end, it was my olfactory senses that gave me some clarity. Research has found that the olfactory system is directly connected to two brain areas, the amygdala and hippocampus, that are strongly implicated in emotions and memories. However, these same parts of the brain are disconnected from all the other senses. That's why smells will trigger memories and emotions that otherwise would go undetected.
I realized that every time I was in an environment where I smelled pine trees I happened to be "manic." In truth I wasn't manic at all, I was just happy. This indirect correlation opened my eyes to the problem. What if I moved to a place that had easy access to nature? Where I could fly fish within minutes from my house, where I could smell pine trees.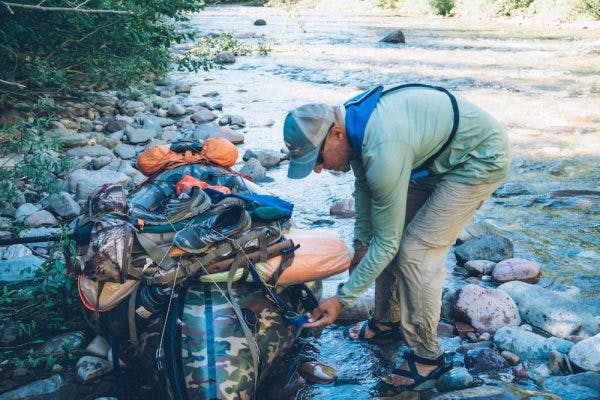 In San Francisco, I had started a successful photography business. Mostly doing digital work that I didn't care for, but that made significant money… more money than I ever thought I could possible make as an artist. I treated myself to lobster and expensive dinners. I started looking for houses to buy in a city that was slowly killing me. I placed an offer on the house and lost it to an offer ,000 over the asking price. That was the greatest thing that could have happened. I had been talking with a fly fishing friend about moving to Montana, and that's when I decided it was time.
A few months later, precisely on May 5, 1999, I arrived in Bozeman, Montana with a Uhaul. I was excited and scared at the same time. What had I done?
From Montana, I started focusing my business on fly fishing photography. After making a whopping the first year and wondering what the heck was I thinking when I moved, I received a call. It was an art director from Sage, one of the most renowned fly fishing rod companies. They wanted me to shoot their catalog. I loved their products and their catalogs and was ready to do it for free in exchange for some rods when the art director said, "We only have k. Could you do it for that?" I felt I had just won the lottery. That's how my career as a fly fishing photographer started and eventually evolved into an outdoor adventure photographer.
My focus became spending time in nature, going on adventures, and making a living doing it. Today social media is a familiar concept. Back then for most people it sounded like a crazy idea. I fished, I climbed, I hunted… living in nature was the goal. Taking photos and making a living doing it just happened as a consequence.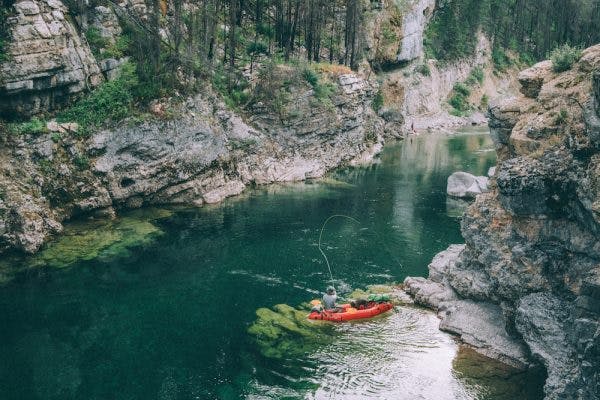 I realized that the more time I spent in the wild, the happier I was. Studies done by the Max Planck Institute for Human Development show that people living in the city are more prone to depression, mental illnesses, chronic stress, and schizophrenia. They further explained that even city dwellers, who live near a forest, will have a much healthier amygdala. This regulates stress in the brain and can cope better with depression, stress, and anxiety.
Thoreau proclaimed the virtues of walking in wild environments and hundreds of years later phycologist had proved him right. In many studies, exposure to nature has shown to reduce stress and boost well-being.
It's hard to pinpoint when depression in my life became a thing of the past, but it wasn't much after I moved to Montana. I now look back at that miserable guy who lived in the city, and it is hard to believe it was me.  In these 17 years, I have pursued wild, remote places in Montana and Mexico where I spend my winters.
When I decided to write this piece, it was a difficult decision. It's frightening to expose yourself like this. There is such a stigma behind depression. Although so many people suffer from it, it's taboo to talk about it. I even had people ask me after reading this piece, "are you sure you don't suffer from depression anymore?" Yes, I am sure.   With the suicide rate alarmingly increasing in the United States, I felt it was important to share my experience, to possibly inspire others to make a change. If I can only save one life, then it was all worth it.