May 17, 2018
Caught in the Current: Riding Alaska's Whitewater Packrafting Revolution
Pro Team Athlete Luc Mehl Documents the Beginning of the Whitewater Packrafting Revolution   — A 5000 Miles of Wild Story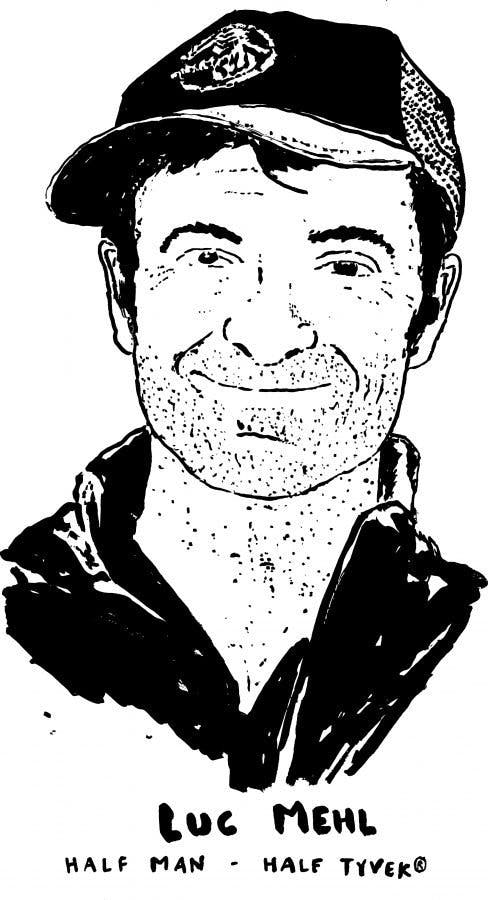 Story & photos by Luc Mehl
Like most people buying packrafts 10 years ago, I wanted a light and compact boat for river crossings and non-technical floats; a tool that would open the landscape to more backpacking destinations. My new boat excelled in that role, but late in my first summer as a packrafter, I was swept into a new channel, embracing the packraft as a whitewater tool rather than a backpacking accessory. The catalyst for this transition was about as random as you can get… ice worms.
In August 2009, Louis Sass exploited my unemployment by roping me into a trip to Eklutna Glacier, an hour from Anchorage. Louis was a graduate student at Alaska Pacific University, installing and maintaining data loggers as part of his glaciology studies. APU professor Roman Dial joined us for the day, taking advantage of a shared rope to search for ice worms on the glacier, an ongoing research project that eventually found its way into Nature magazine.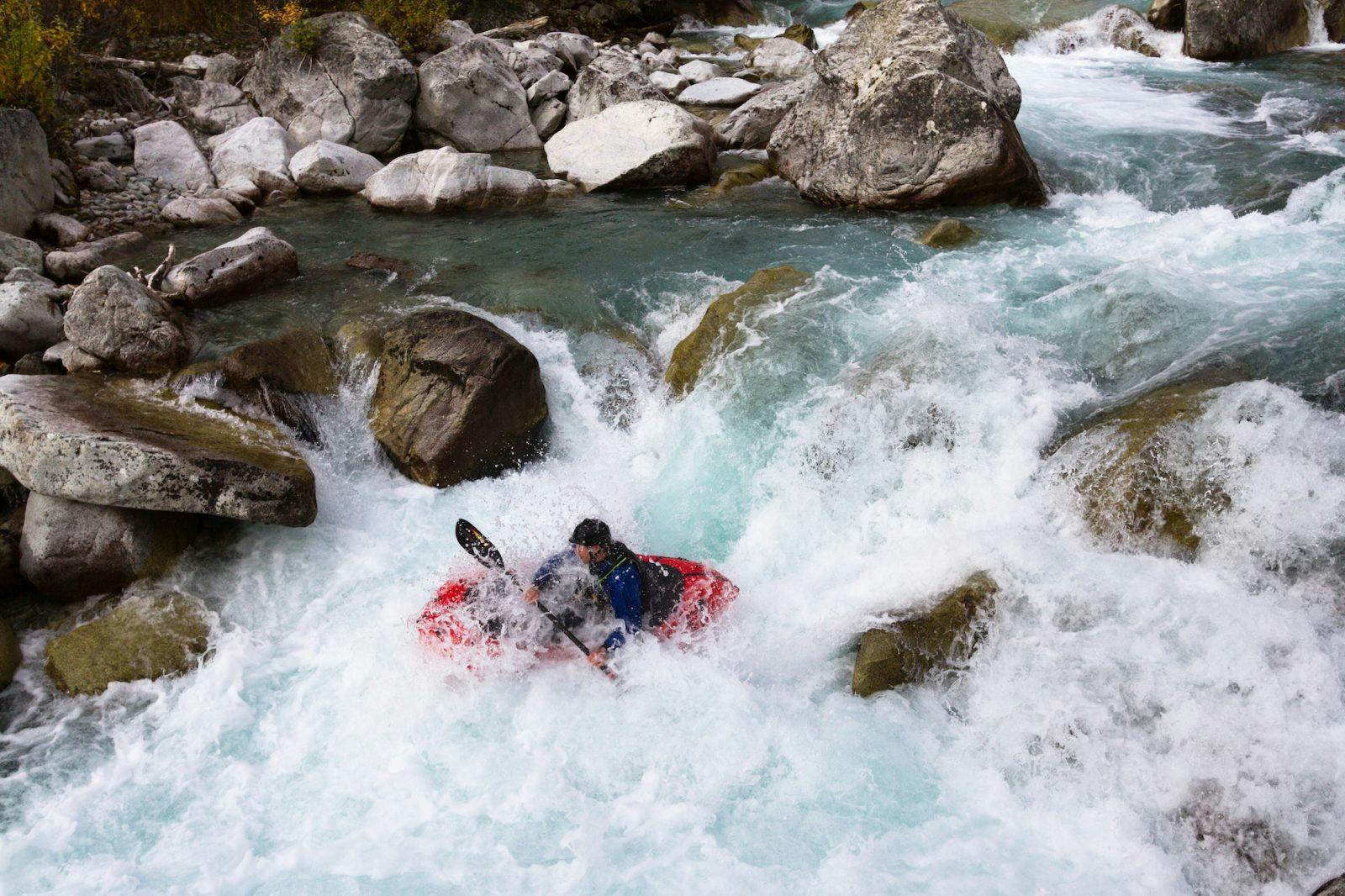 I knew who Roman was; most Alaskan outdoorists do. But I hadn't met him. I was amused at the statistics Roman constantly ran through his head… our pace, distance travelled, anticipated return time. Roman finished the day concluding that Louis and I were fast, efficient, and owned packrafts, and that holy trinity earned us an invite to join Roman packrafting. Under Roman's tutelage I spent the next month racking up descents on the road-accessible Class IV rivers within a day of Anchorage.
2009 was the second year of Roman's one-man mission to convince the world that packrafts are real boats (i.e. boats that can handle technical whitewater). This was not a one-man mission from Roman's perspective. Roman would be quick to mention Brad, Thai, Tony, Becky, and his son Cody Roman, who was actually the first person convinced about the merits of whitewater packrafting. But those tributaries had already merged by the time I was swept in, so this was Roman's channel to me.
Roman recruited the most aggressive packrafters, especially those with previous kayak experience, for roadside runs that were previously considered only appropriate for kayaks. The regime change was this simple: rather than planning a week or weekend around a scenic float, Roman recruited paddlers for after-work quick hits… rowdy water that left the paddlers amped after just a few minutes in the boats.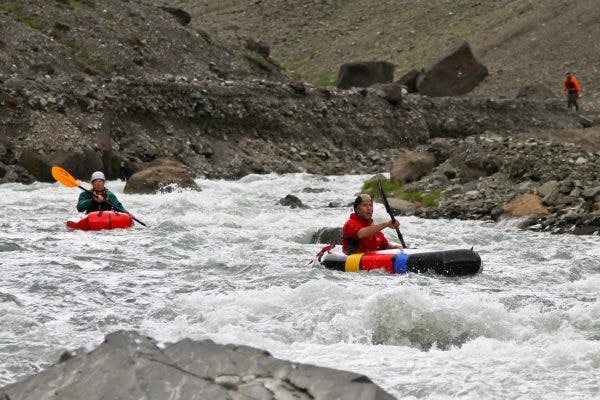 Roman documented this progression, running Class IV rapids biting a flexible Joby tripod with an Olympus Stylus Tough waterproof camera. If running whitewater isn't exhilarating enough, try it while holding a camera in your mouth.Roman's mission reached varsity status after recruiting Alaska's kayaking hotshots Paul Schauer and Timmy Johnson. Paul grew up boating with his dad in Fairbanks, and his years of experience resulted in creamy paddle strokes and artistic boat control. Roman's footage of Paul paddling Montana Creek sent waves through our small paddling community… I can claim at least 50 of the 11,000 views, studying Paul's technique and trying to emulate his control. I'm still trying to emulate it. Paul paddles rapids backwards better than I do forward.
Timmy Johnson was an APU student who published a whitewater guidebook as his senior thesis (with Roman advising). After borrowing a packraft from Roman, Timmy installed thighstraps, arguing that the straps would radically change the control of the boat. If there was any need for persuasion, the first footage of Timmy rolling his packraft removed all doubt. Timmy arranged for Alaska Raft and Kayak to open their warehouse to us, and Tracey Harmon spent his evening helping install thighstraps. Suddenly, a lean caused a tube to lift out of the water, critical for catching eddies and navigating rapids. The whitewater revolution was in full swing.In addition to the huge contributions in terms of equipment and technique, Paul and Timmy were instrumental in conveying the kayaking 'culture of safety' to our group of budding whitewater packrafters. Both passively and intentionally, they instructed us about safe rigging, scouting, and rope work. Though it took some convincing, this group of kayakers that pulled us under their wing effectively created a safety net that allowed us to try harder moves, knowing that there was a boat or throw rope waiting for us below the rapid. We utilized that safety net over and over.Similar whitewater revolutions were likely taking place in other locations, but I believe the progression in south-central Alaska, motivated nearly single-handedly by Roman Dial, led to the rapid popularity of packrafts as whitewater boats within the last decade. In retrospect, it feels like a service Roman felt obligated to provide, a vision he needed to see through. Once whitewater packrafting reached the "mainstream," Roman stepped back, reverting to long and scenic floats, like last summer's Firth River hike/float in the eastern Brooks Range. Next time you have a safety net, take a swim for Roman. He did for you.
Show Up and Blow Up: Alaska from Luc Mehl on Vimeo.