October 16, 2019
A Dream Packrafting Adventure Down the Franklin River
Dulkara Martig actualizes a nine-day dream trip packrafting Tasmania, down the Franklin River 
By Dulkara Martig. Photos by Dulkara Martig and Ben Weigl.
The Franklin River offers one of the most impressive multi-day whitewater journeys to be found anywhere. It winds its way 120 kilometers through one of the most wild and remote corners of the world–the 3.5 million acre pristine, untouched Tasmanian World Heritage Area.
The Franklin also boasts a bit of everything: gorges full of rapids with car-sized boulders, cascading waterfalls, and peaceful pools. Though once famously described as a "brown, leech-ridden ditch" by Robin Gray, former Premier of Tasmania, protesters successfully rebuffed his campaign to dam the river.
Saving the Franklin
In the late 1970s and early 1980s, the Franklin River lay at the heart of one of the largest conservation battles in Australian history. It peaked in the summer of 1982/1983 when protestors formed a blockade with rubber duckies to halt dam works and stop the passage of equipment. Police arrested thousands of protestors, but new waves of protestors arrived to take their place.
This continued for the entire summer. They finally saved the river from in July 1983, a huge win for environmentalists. Australia's new prime minister Bob Hawke also won his battle with the Tasmanian Government. He luckily had the right to make laws for the environment.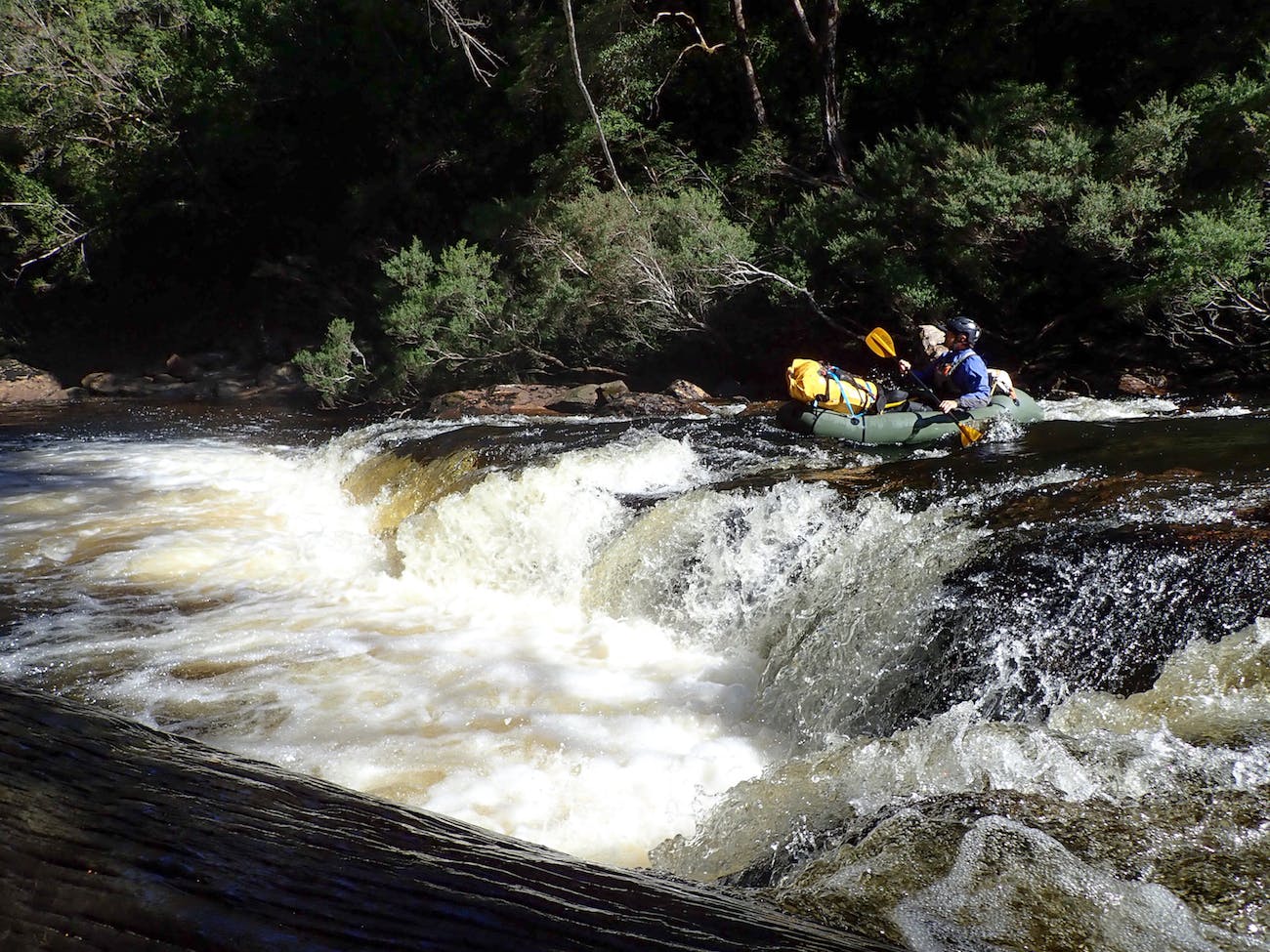 Packrafting Tasmania – a Daydream Turned Real
In January I found myself rattling through the desert on a train in Rajasthan, India, daydreaming about lush green forests and waterfalls. The Franklin River, which had been on my radar for many years, popped back into my mind. I flicked my Australian friend Ben a message on Facebook.
"I'm about to book tickets to Tassie for April, are you keen to come?" Within a few minutes he was in, and a few weeks later we had a crew of four committed for the adventure. 
In April, Ben, Gus, Ed, and I loaded everything into Gus's friend Blinky's car in Hobart and drove the three hours to Donagy's Hill Reserve on the Lyell Highway. We exploded our gear on the banks of the Collingwood River and made our first camp, crossing our fingers for nice weather. Anticipation for the unknown was growing.
A Picture-Perfect Journey
For the first few hours, on the Collingwood River before it spilled into the Franklin, we encountered logjams, boulder gardens, and short swift sections of calm water.