Packrafting Jasper's North Boundary
Story by: Rachel Davies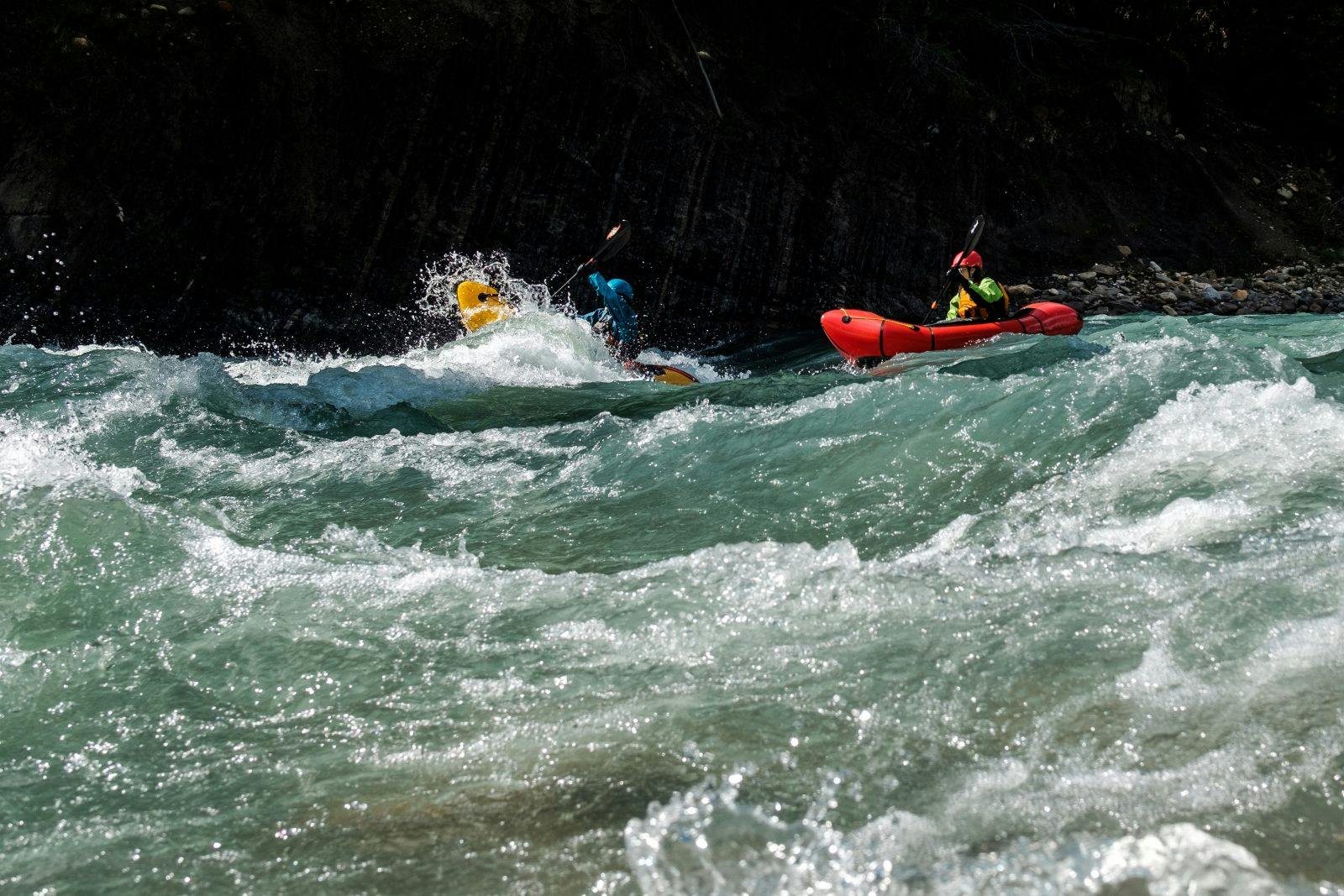 The North Boundary Trail is a well-known track winding along the northern-most edge of Jasper National Park in the Canadian Rocky Mountains. We'd heard rumor of its remoteness and seen countless pictures of towering mountain vistas and glaciers running into pristine waters. It's set out as a ten-day hiking trail, but when my friend Coburn took a closer look at the map, he noticed rivers paralleling the trail almost the entire route and we immediately concluded the adventure would be much more thrilling with packrafts in tow. It didn't take long to convince our friend Laura to join.
I got on the phone with an enthusiastic Parks Canada employee who had also caught the packraft bug but had never attempted the North Boundary route as a whole. Sections of the beginning and end have been paddled by rafters and whitewater kayakers determined enough to carry in their boats, but as far as anyone had figured, the whole route hadn't yet been pieced together by modern paddlers. We studied satellite and topo maps, referenced hydro charts, scoured blog posts, and decided the rivers would be runnable enough to get us through, but really had no idea how much of an adventure we were about to dive into.
Day One – Berg Lake Trailhead to Adolphus Lake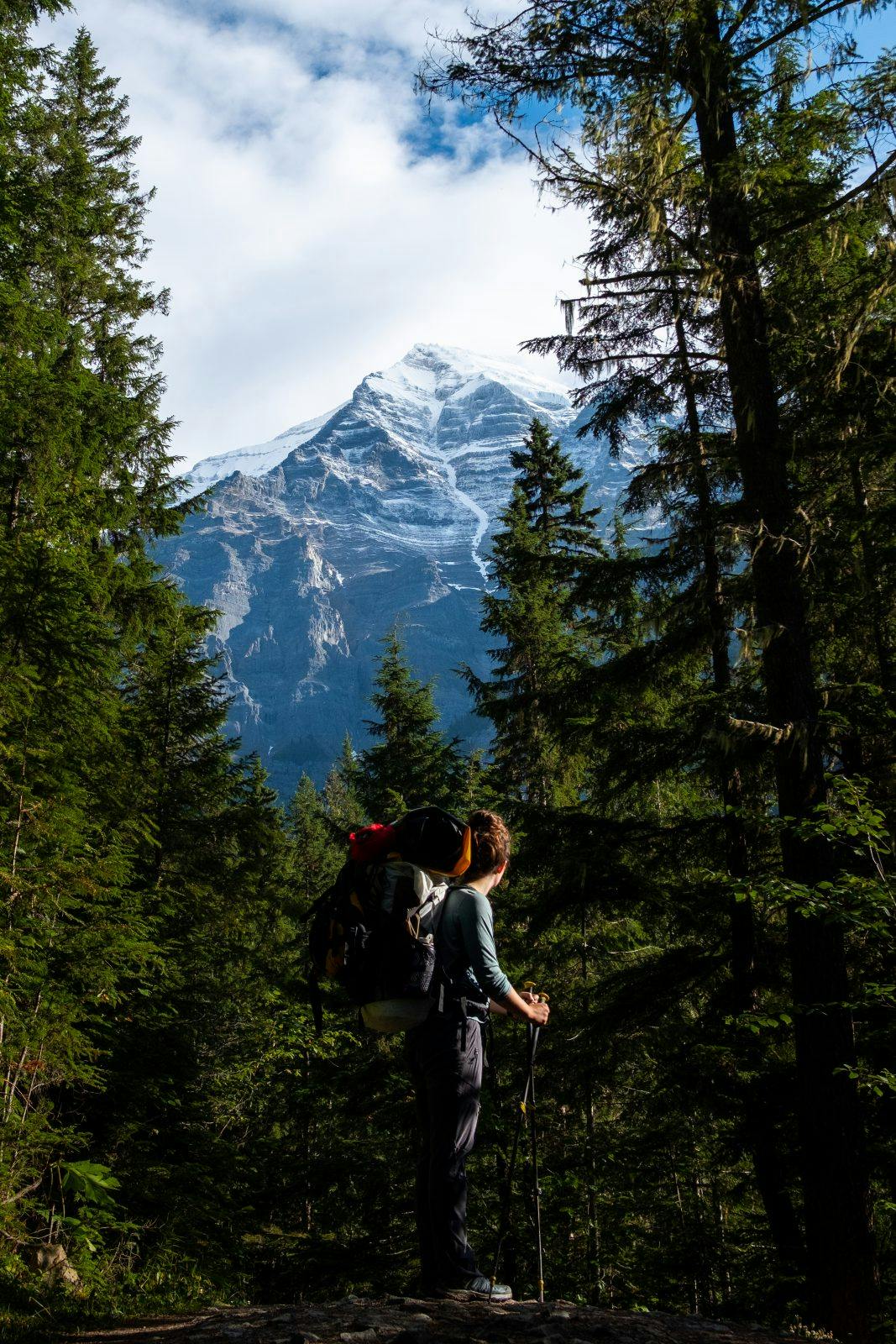 Our route began at the Berg Lake trailhead on the British Columbia side of the border where towering spruce and cedars lined the trail, the sun shining through tangles of old man's beard and dewy mosses. "It's incredible, the difference in forest on this side of the divide to Alberta's," Laura noticed as we gazed up at the forest giants. The land shifted and changed drastically throughout the first day as we covered 27 kilometers, up and over a mountain pass to Berg Lake, past the Alberta border and onto Adolphus Lake. It was our biggest day of hiking with the reward of astounding views and epic paddling in store.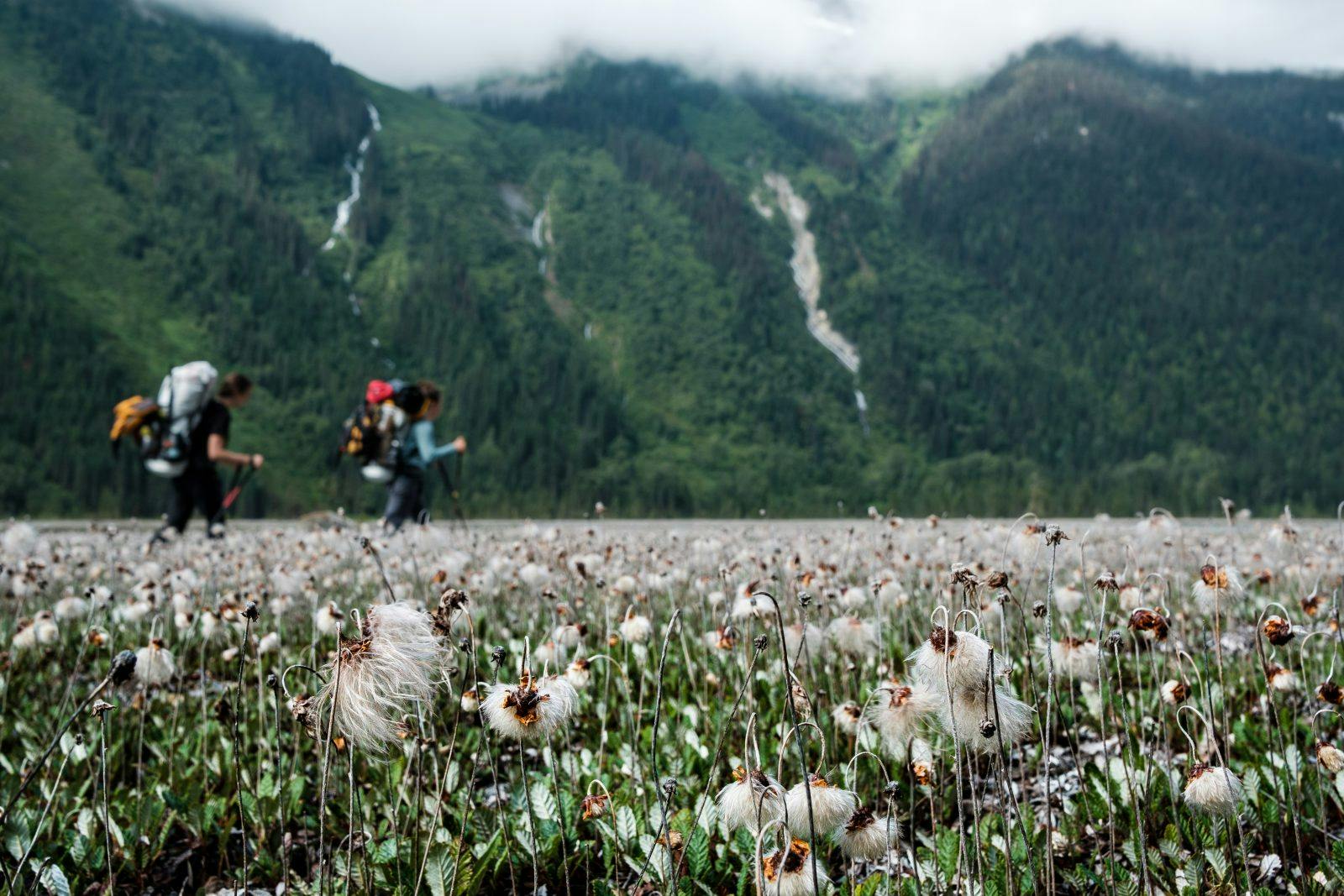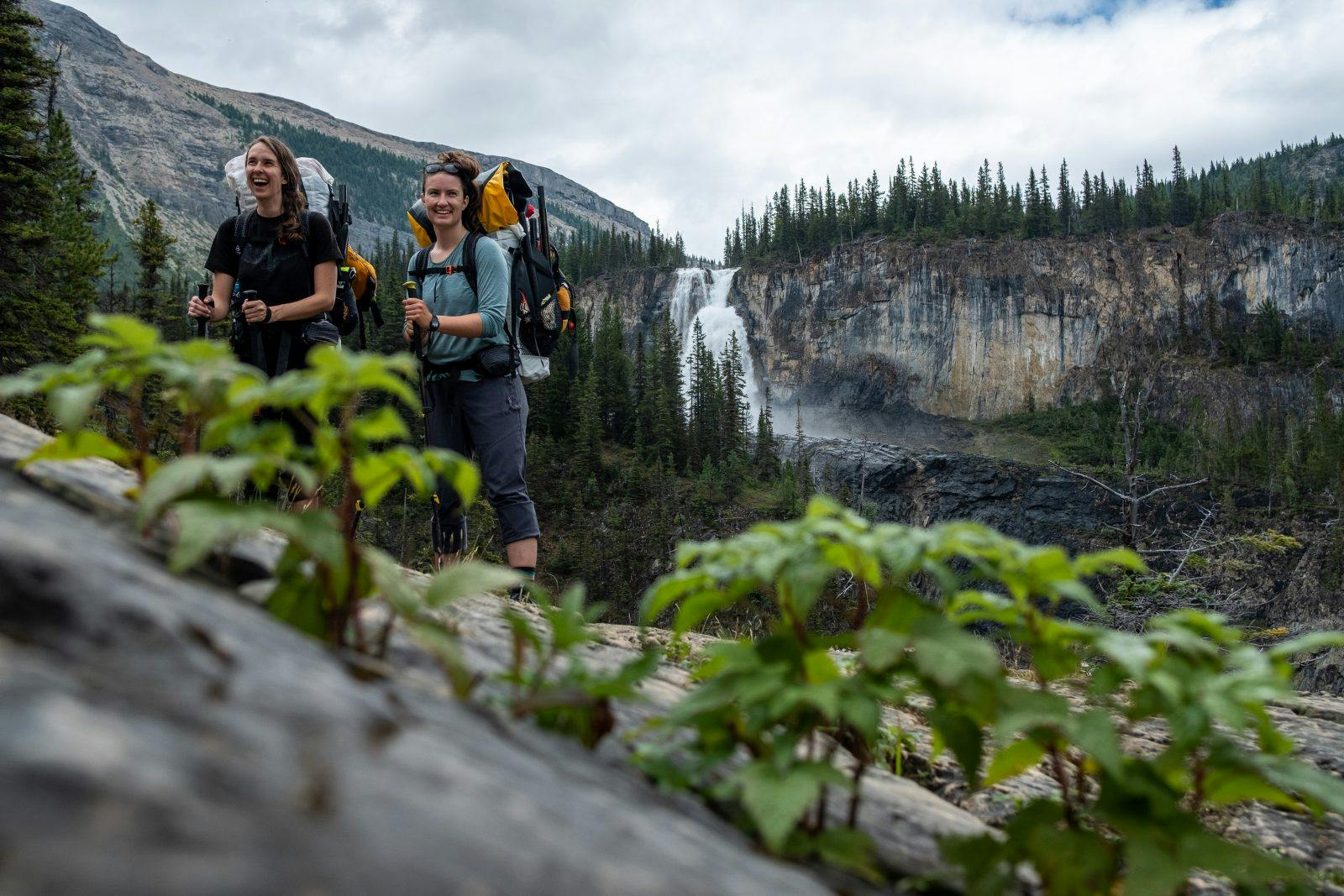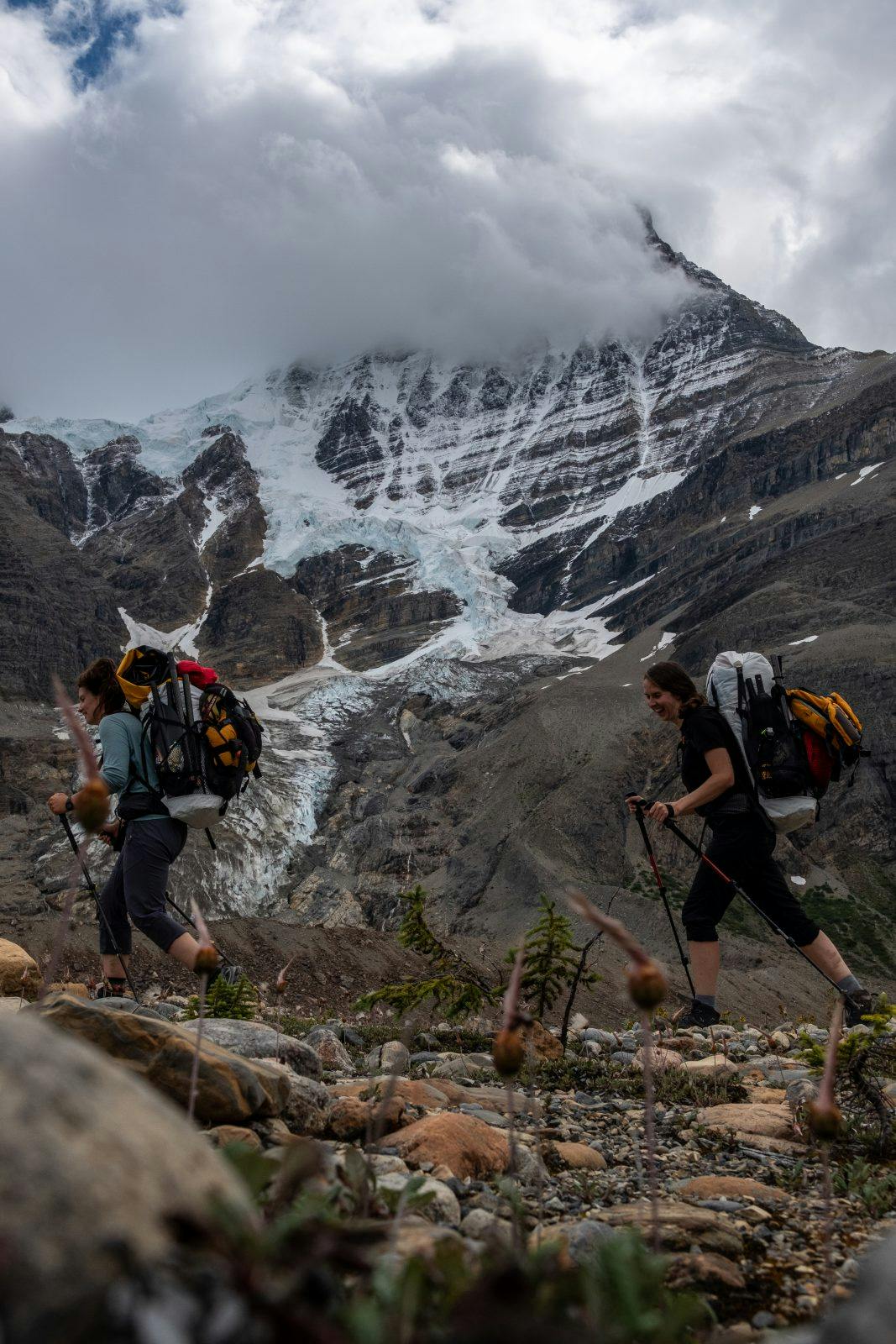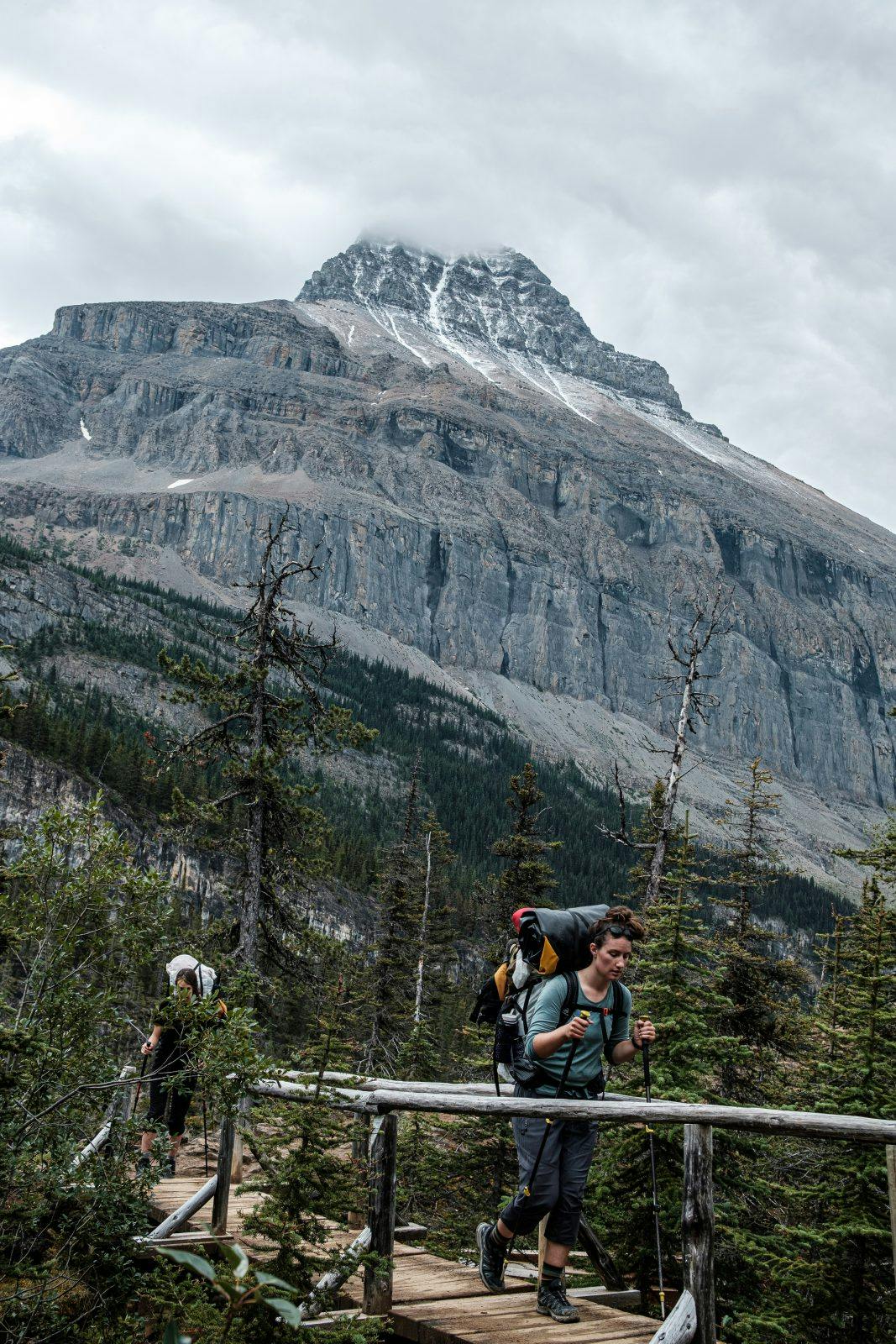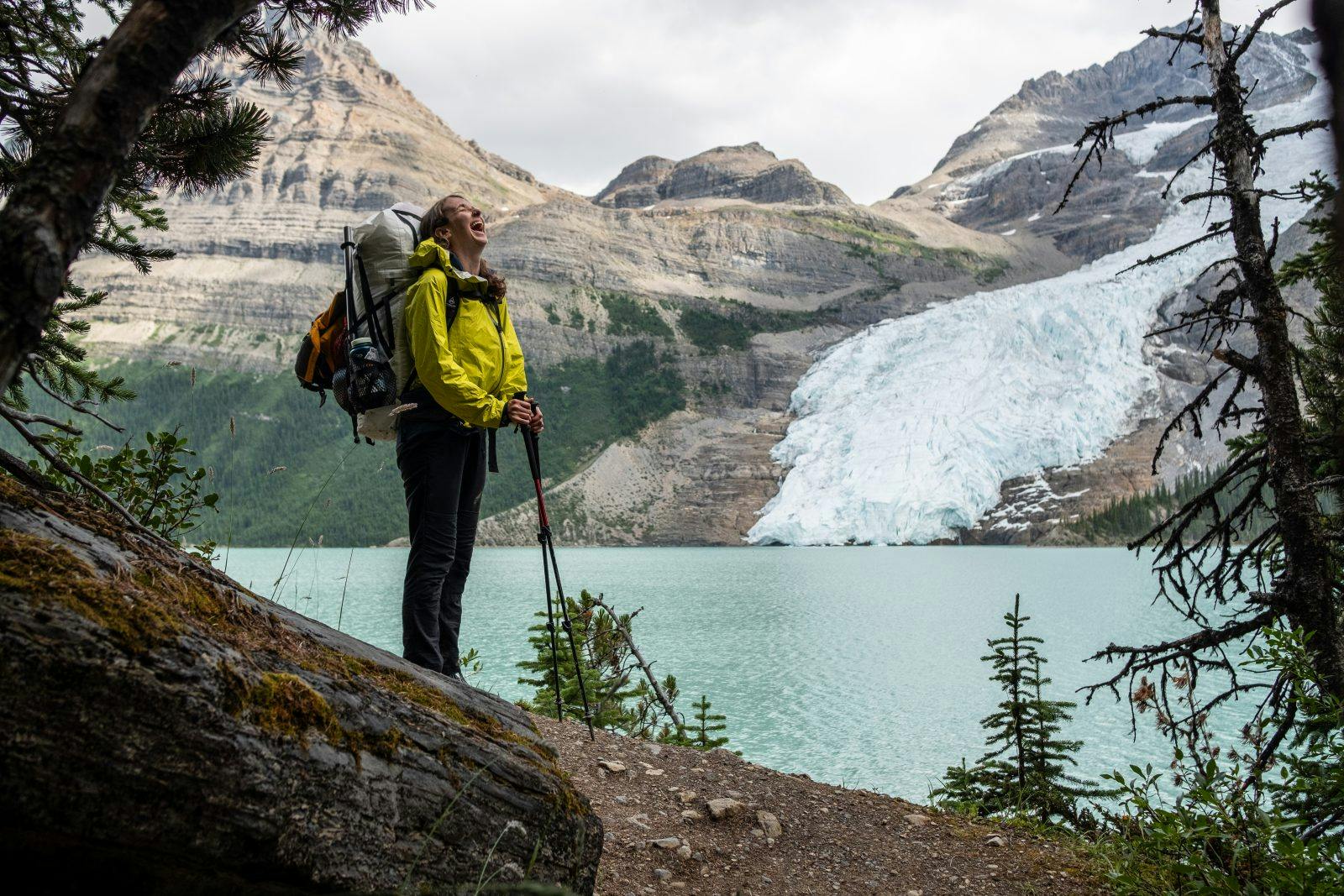 Day Two – Adolphus Lake to Chown Creek
Adolphus Lake is the headwater for the Smokey River, which we camped beside for our first night. We woke up absolutely itching to get on the river, but it was only about ankle deep next to our campsite. We packed back up into hiking mode and followed along the river for about three kilometers until it got just deep enough to float. The river twisted and turned in braids for a long stretch, but we paddled on, eager for every valley that joined because it meant more water flowing into the Smokey.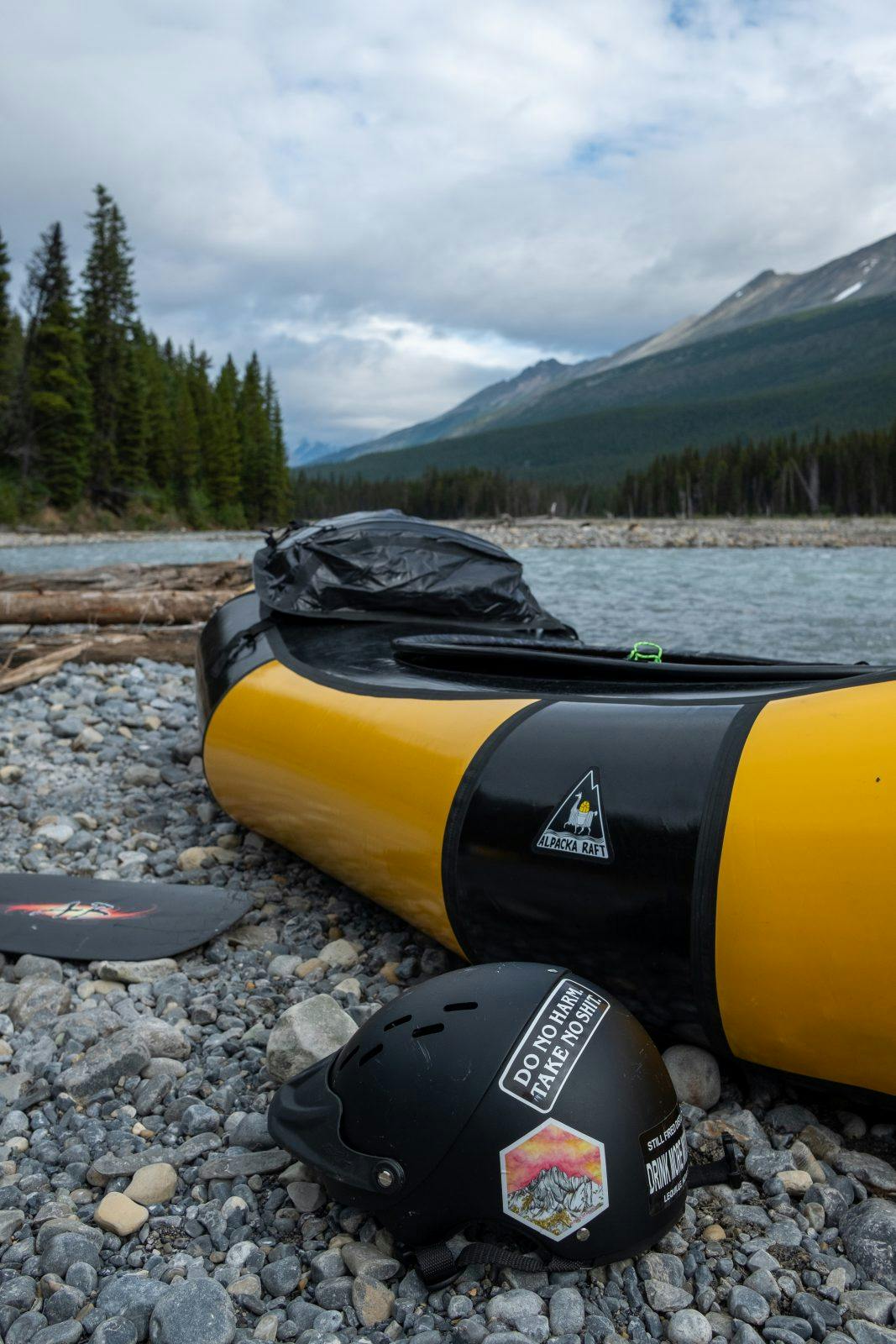 Checking our maps, we knew the river would constrict for several sections that day but didn't quite know what rapids to expect. The riverbanks kept shifting from rocky plains to eroded cliffs and back again. Thankfully, the open mossy forest was easy enough to make-shift short portages around un-runnable drops and log jams, of which there were only a couple.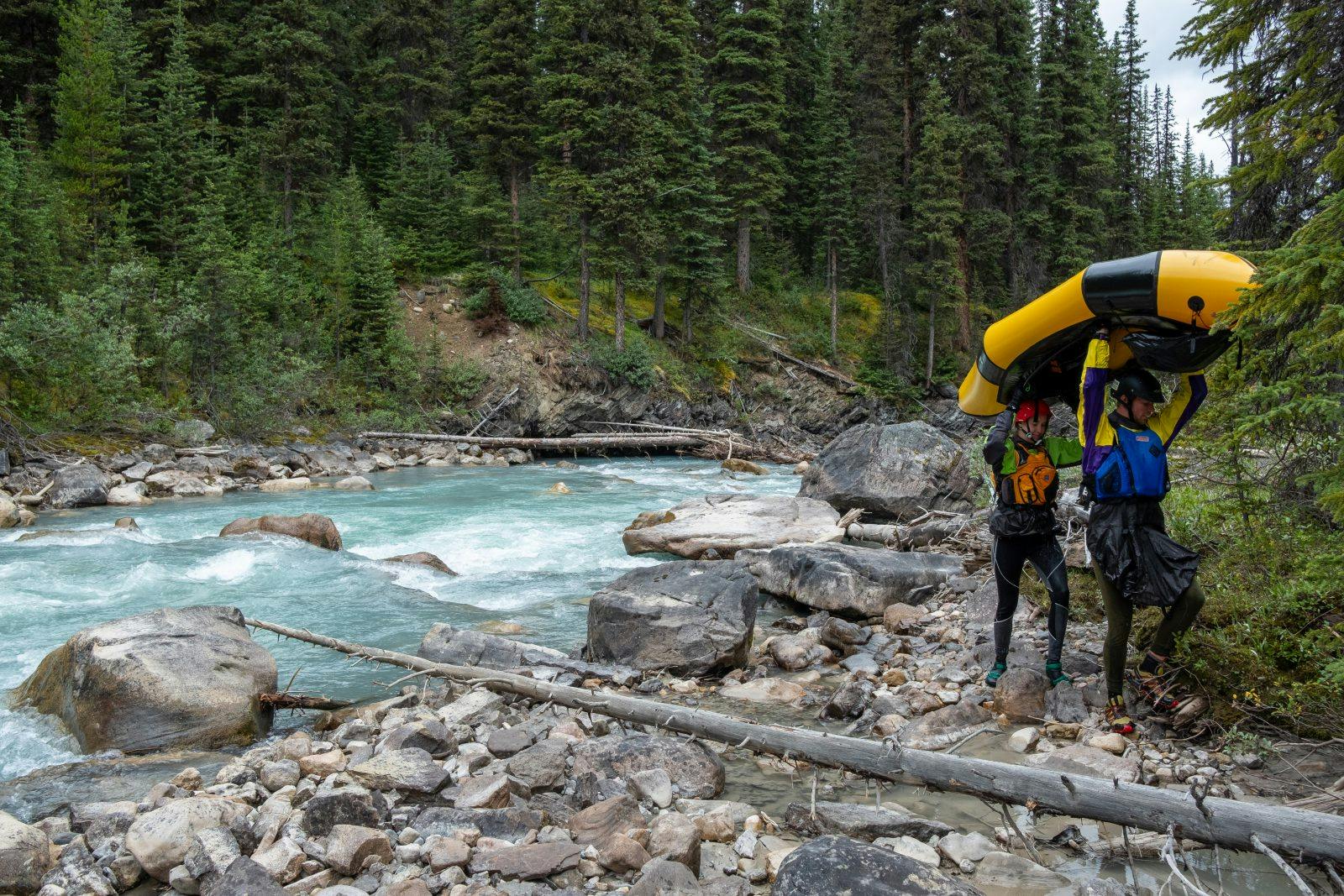 We were swiftly rewarded for our bush-bashing by rollercoaster sections of rock gardens full of drops and turns. Leapfrogging from eddy to eddy, we laughed with disbelief for how exhilarating the Smokey River was already turning out to be.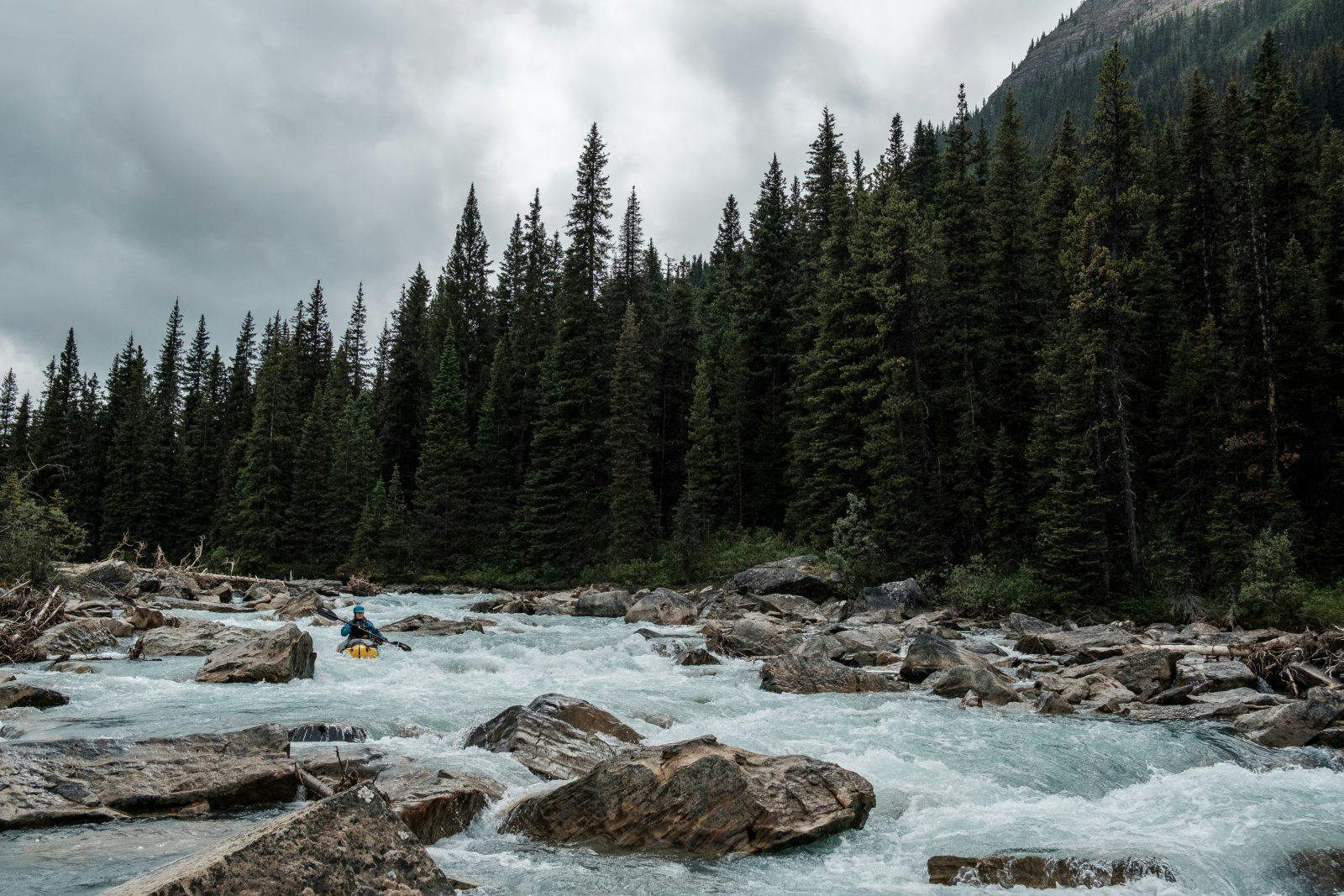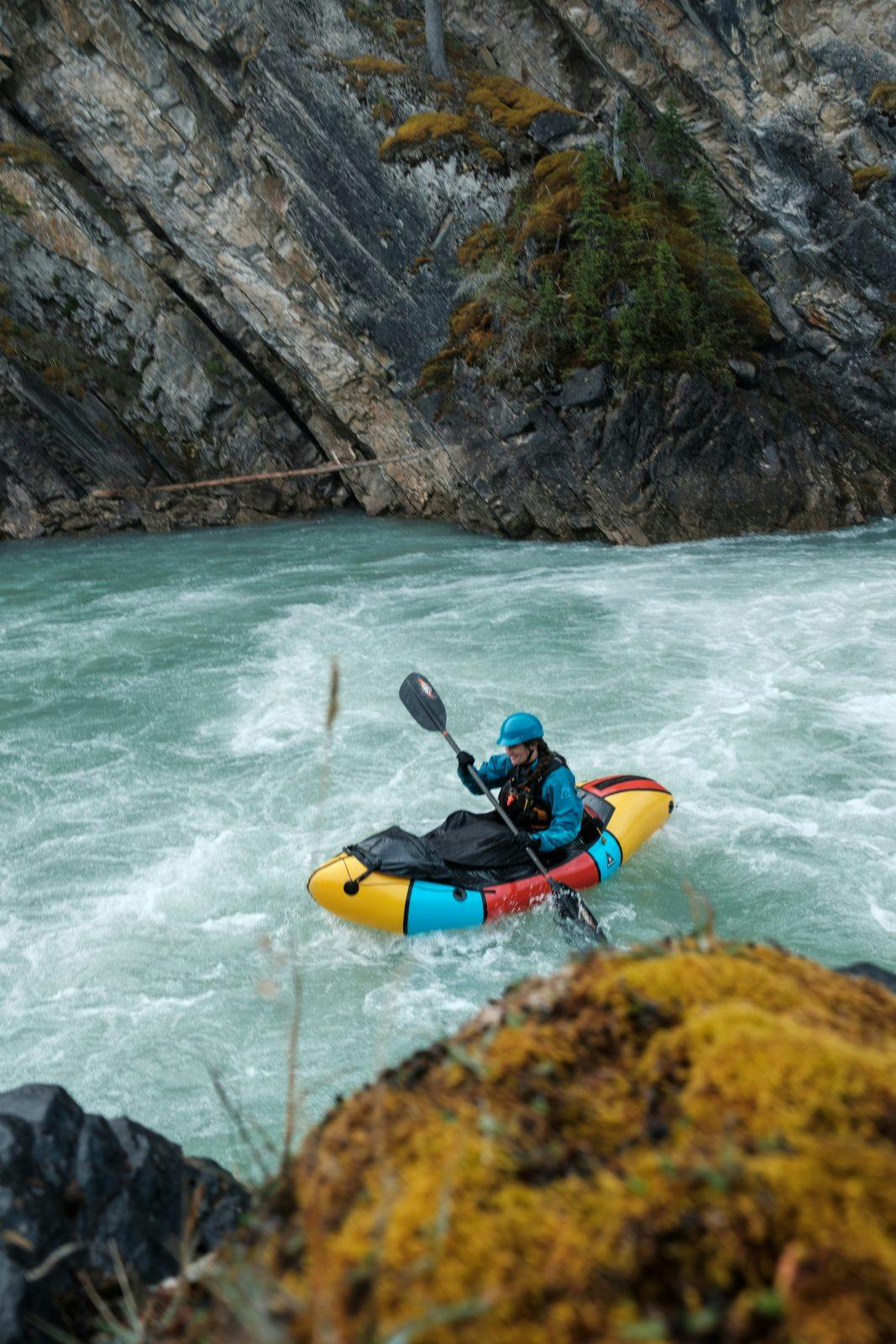 Wide smiles on our faces but frigid fingers and toes started signaling the end of the day. The rivers here are all glacial fed, so while it was August air temperatures, the water was sharp. We took out and transitioned back into our packs, heading up an adjoining valley a few kilometers to Chown Creek for the night.
Day Three – Chown Creek to Byng Campsite
"Hike it." "No let's paddle." "But it'll take way longer to transition multiple times." "We came here to paddle! Plus, our gear is already soaked from the rain, so it won't make a difference." Morning debate from our sleeping bags.
Unzipping the tent, the hallelujah chorus of blue sky breaking through the grey cloud cover had us packing straight into our boats that morning. Chown Creek was a shallow braided river the night before, but the steady overnight rain had brought it up just enough to whip us swiftly back down to the Smokey River once more. We only had eight kilometers to paddle until we transitioned back to hiking, but it was collectively agreed upon to be way more fun than hiking the more direct three kilometers to the trails' intersection.
The Smokey gave us one last good ride with continuous class two wave trains all the way down. We took out just before the canyon Parks Canada had warned us of. Any questions of running it were quickly stifled when we crossed over it on the hiking bridge – a tight, twisting canyon with a massive log jam at the end consoled us for packing up earlier.
So onwards and upwards we hiked, heading towards Snake Indian Pass which would eventually lead us to our biggest river.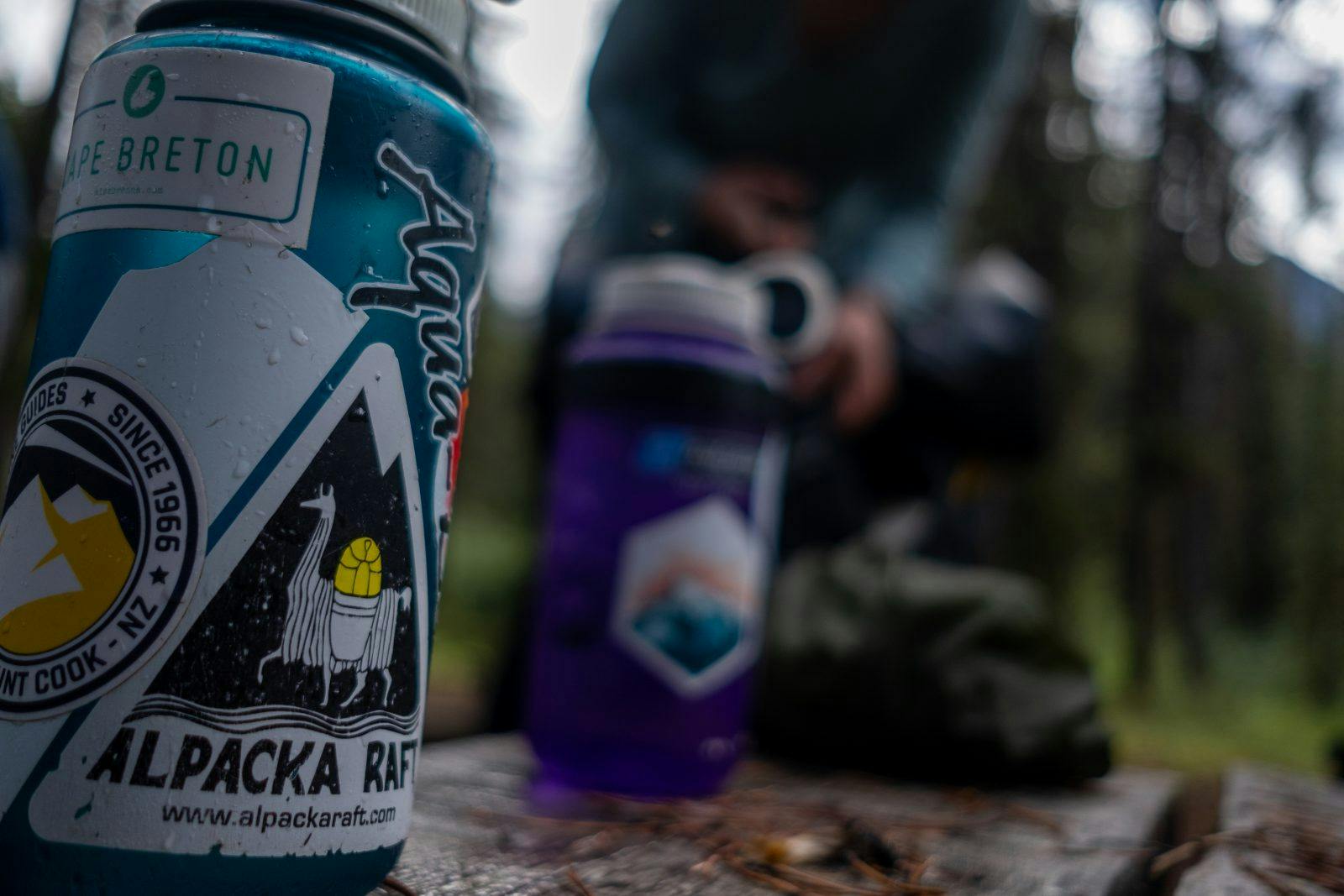 Day Four – Byng to Oatmeal Campsite
The sun came out in full force to dry all our gear as we began our second and last full day of hiking. While we weren't in our boats, I thought about how our packrafts were still what was making this journey possible. Our lunch stop was in the open sub-alpine of the Snake Indian Pass where we could see the glaciers that create the river we were about to paddle down the following two days. To witness the river's very beginnings and follow the water through its course felt like a sense of connection I had never experienced before.
Day Five – Oatmeal Campsite to Welbourne Falls
We once again woke up with the feeling of Christmas morning jitters, ready to get back on the water. My feet seemed to pull me along the trail, eyes scouring down the hillside at every opening in the forest to see if the river was big enough yet to put in. It was only a few kilometers of hiking before we could easily get back down to river's edge and decided it was wide and deep enough to run.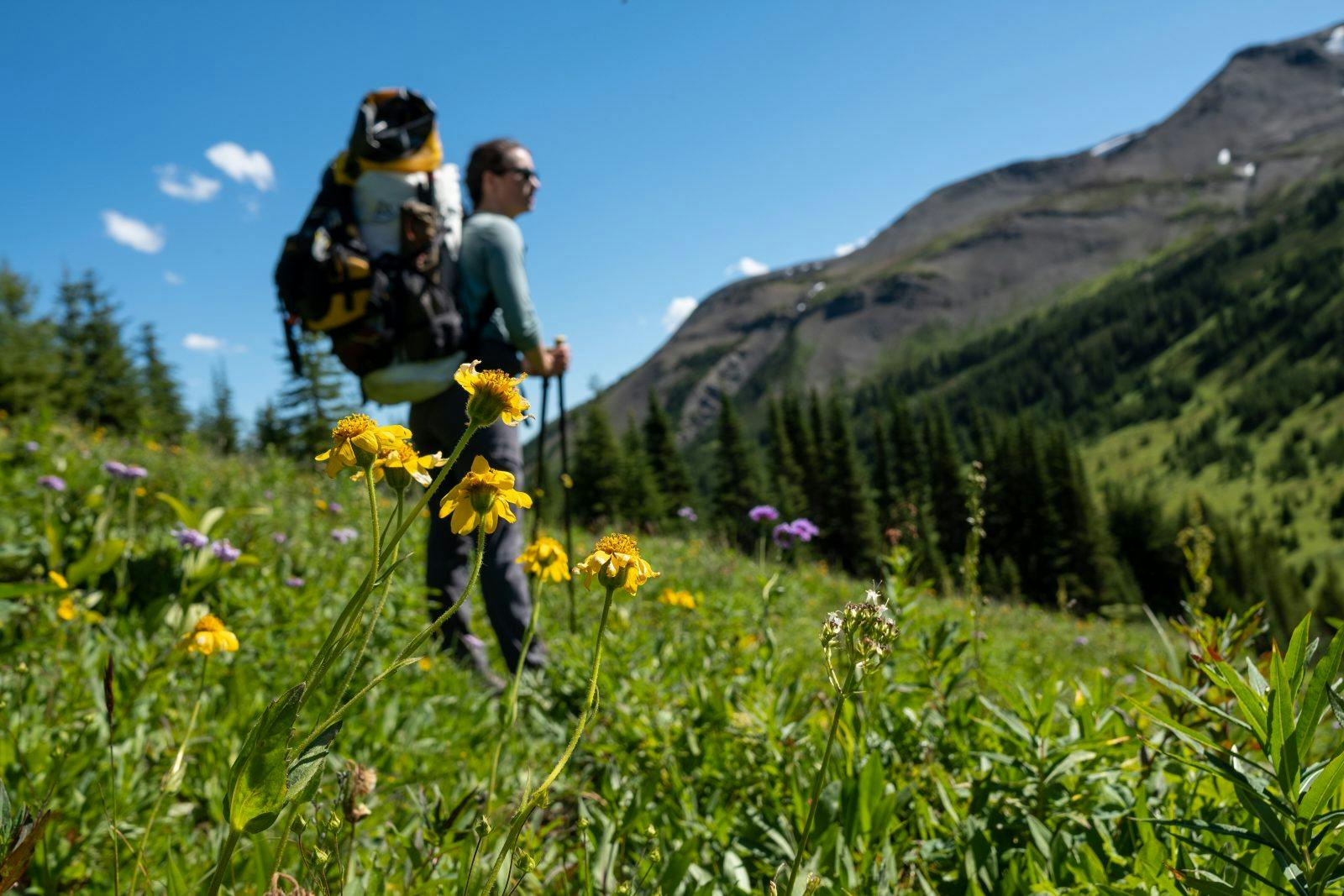 While we knew some kayakers had paddled the Smokey River and several had run the lower Snake Indian River, we couldn't find any evidence of modern paddlers running the Snake Indian from as high upstream as possible, where we were starting our journey. We had three major waterfalls pinned on our GPS from Parks Canada's advisories, but otherwise were running the river solely by scouting.
We ran 40 kilometers of the river that day and got a taste for every kind of paddling. The start gave narrow rock gardens with endless little drops and waves to keep us on our toes, then we came out of the woods into wide open vistas with snow capped peaks all around. I've never seen such a variety of mountain formations in one area: swirling patterns of immense rock with sheer cliffs like the Italian Dolomites to coloured scree slopes reminiscent of the Rainbow Mountains of Argentina. The river braided and meandered through grassy valleys with pebbled banks as the water pushed us along. I put my paddle down and ran my fingers through the cold water, laying my head on the back of my raft. Is this what complete bliss feels like?
Every once in awhile we could see the North Boundary hiking trail meet the river. "Anyone else really thankful to not be walking right now?" Laura laughed as we lazily floated along during a snack break. At one point we saw a group of three hikers pop out of the trees – the first people we'd seen in days. "Wait – those are packrafts, aren't they! Do you like them?" they shouted to us from the bank. "No, they're horrible" Coburn replied with a chuckle as we drifted by.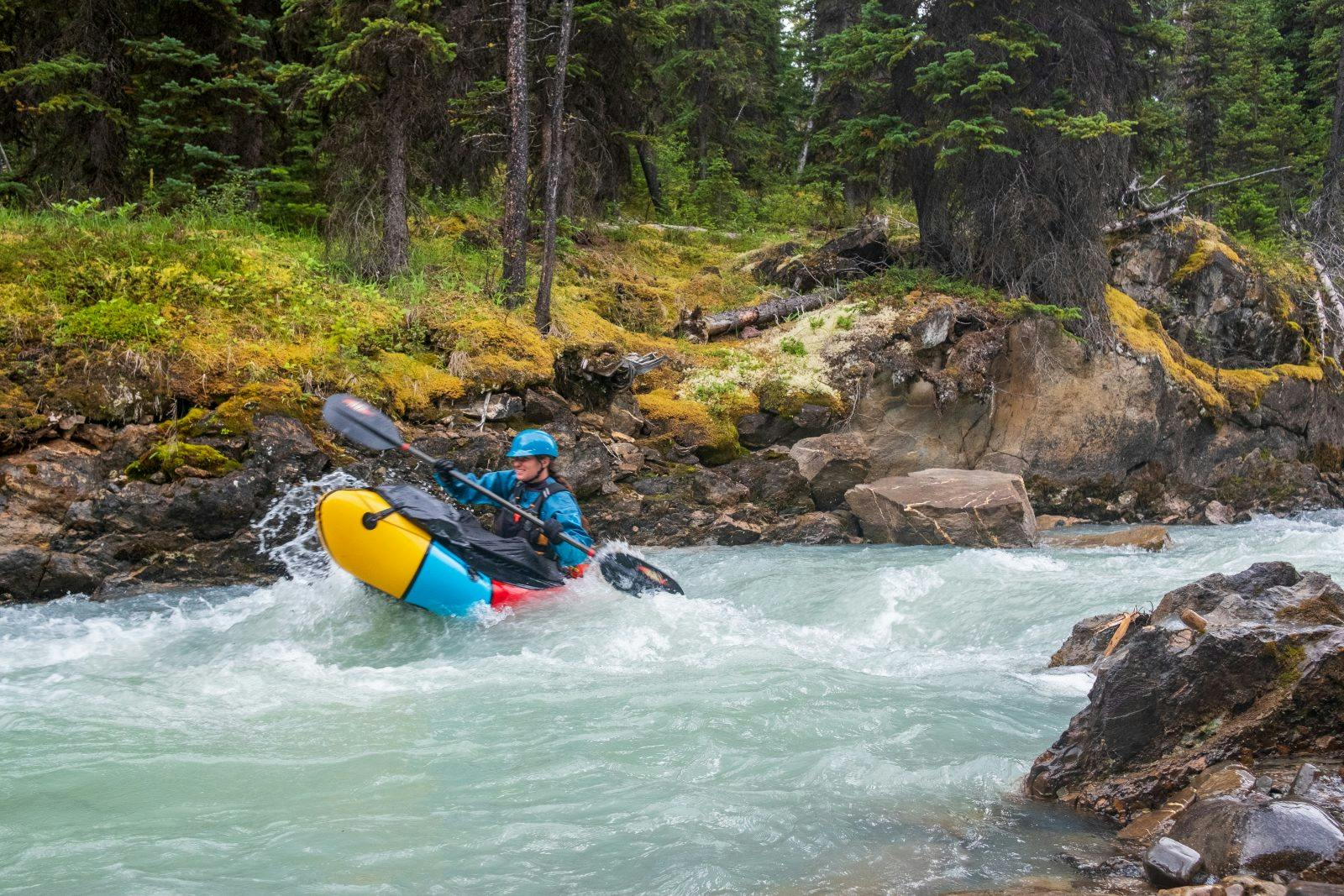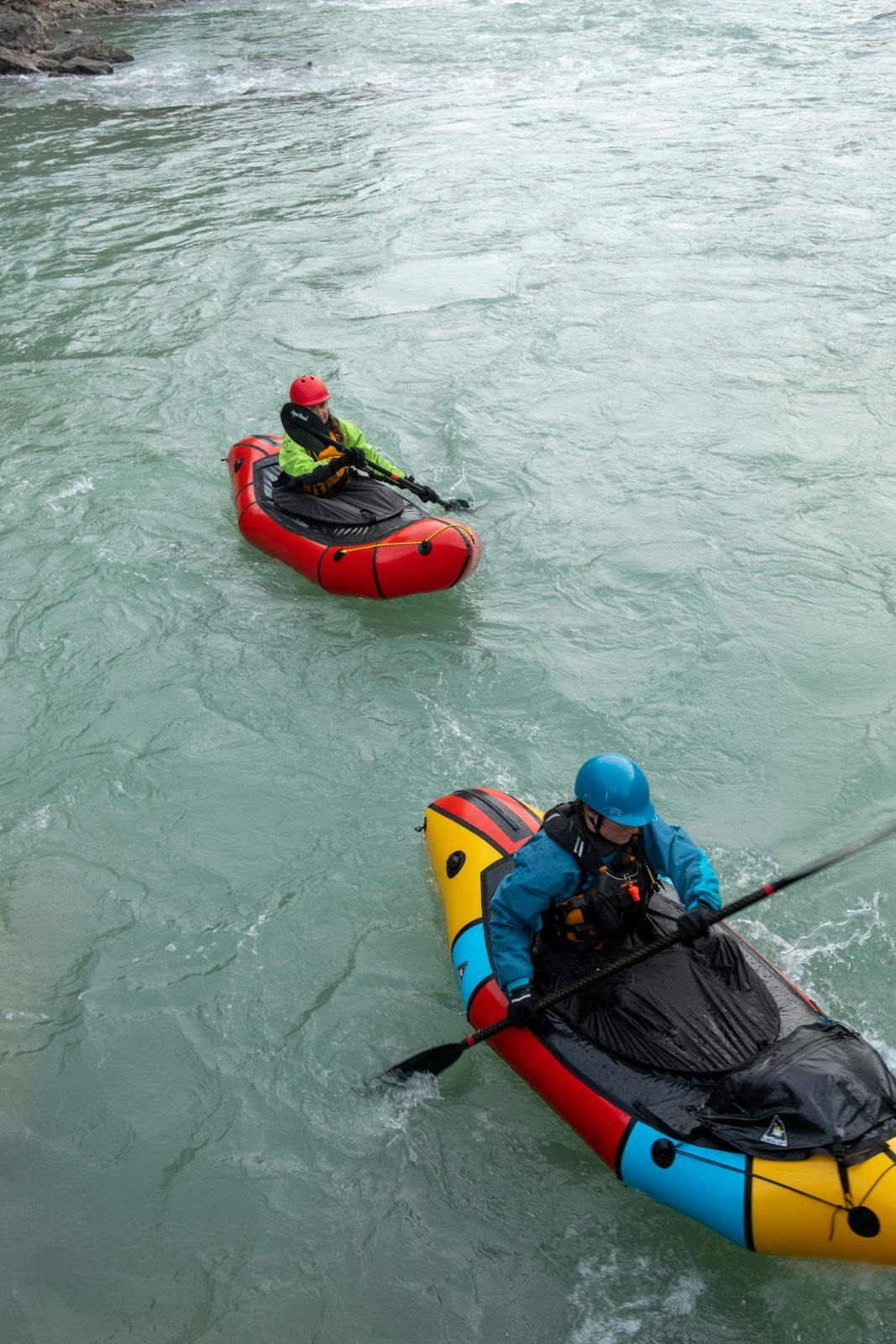 Just as we were getting too comfortable, the river woke us back up. It once again narrowed into sections of gorges – some runnable, some not. Coburn managed to scramble down the walls of one to try and run a class three chute, only to swim out the bottom, laughing. The only flip of the trip.
Our paddling that day ended just before Upper Welbourne Falls – a massive set of falls we could hear from quite a distance. A thunderstorm overhead and empty stomachs timed themselves well with our exit of the river, but first was a long bush bash back to the trail and on to our campsite.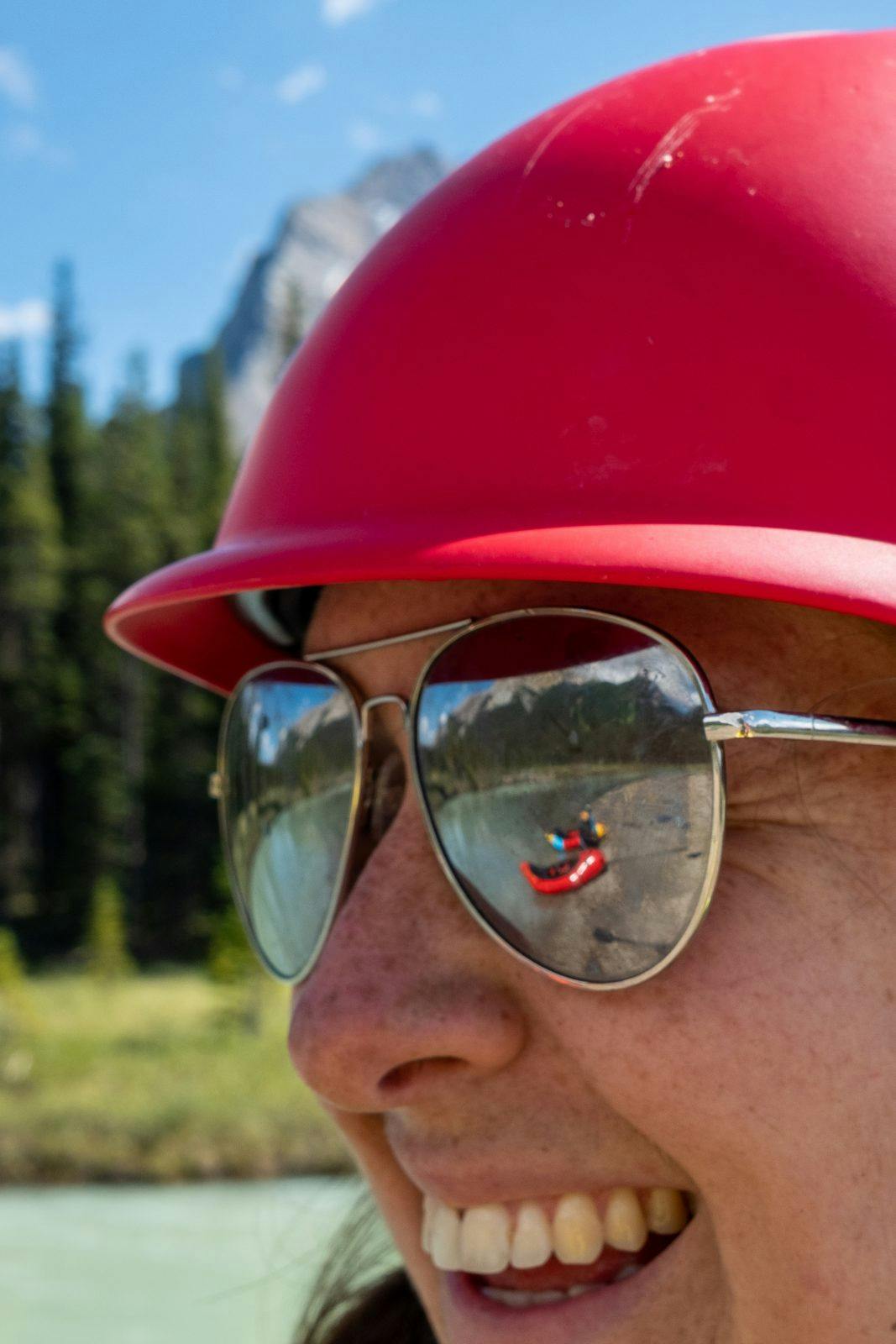 Day Six – Welbourne Falls to Celestine Lake Trailhead
Most final mornings of a trip have a sense of mourning to me. There's excitement for the post-trip ice cream, but usually I'm sad to be leaving already. I awoke that final morning instead with a rush for the unknown of the river that day. We had at least 60 kilometers left to paddle and didn't know if it might take us an extra day anyways. The "real world," as they call it, wasn't even a thought yet.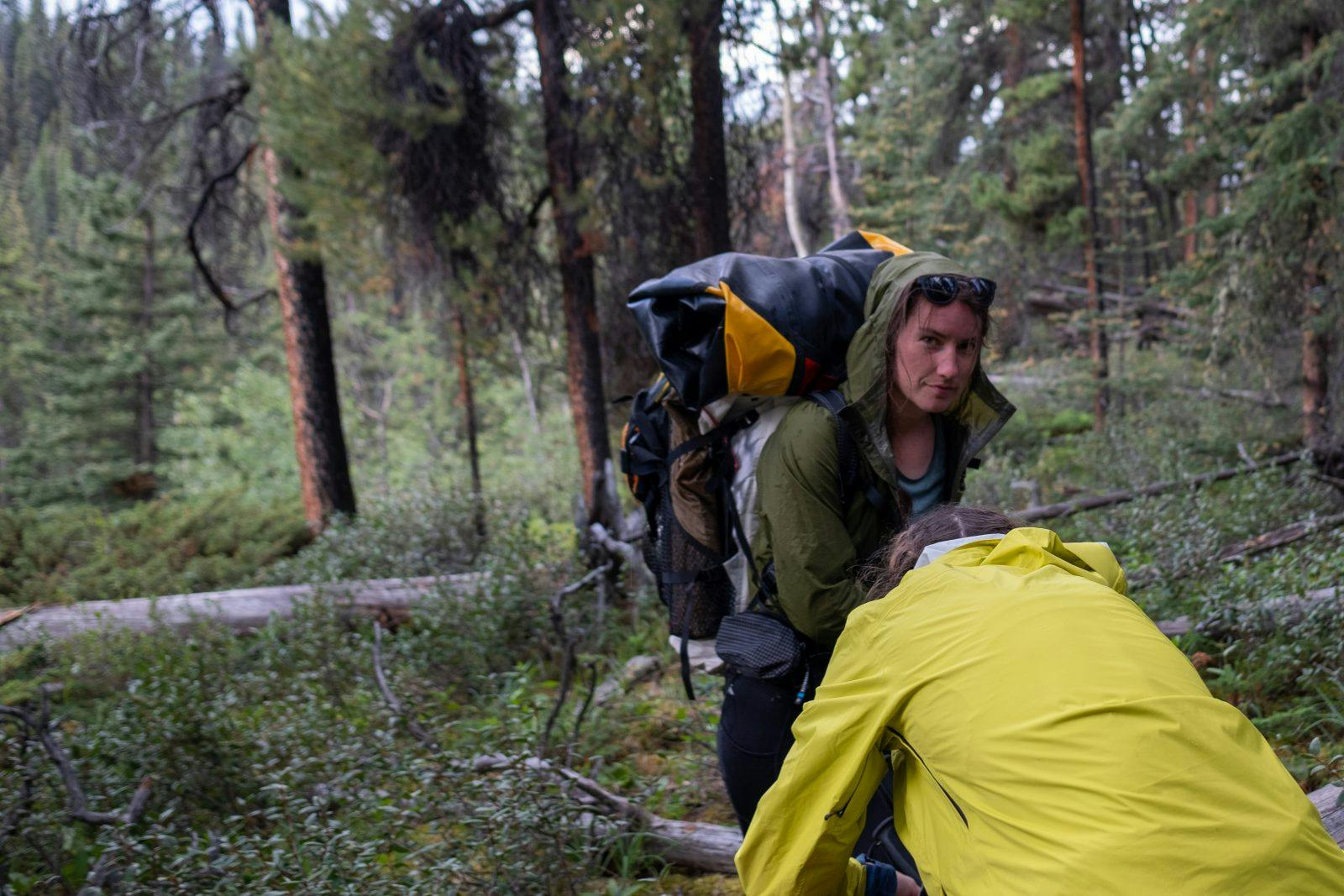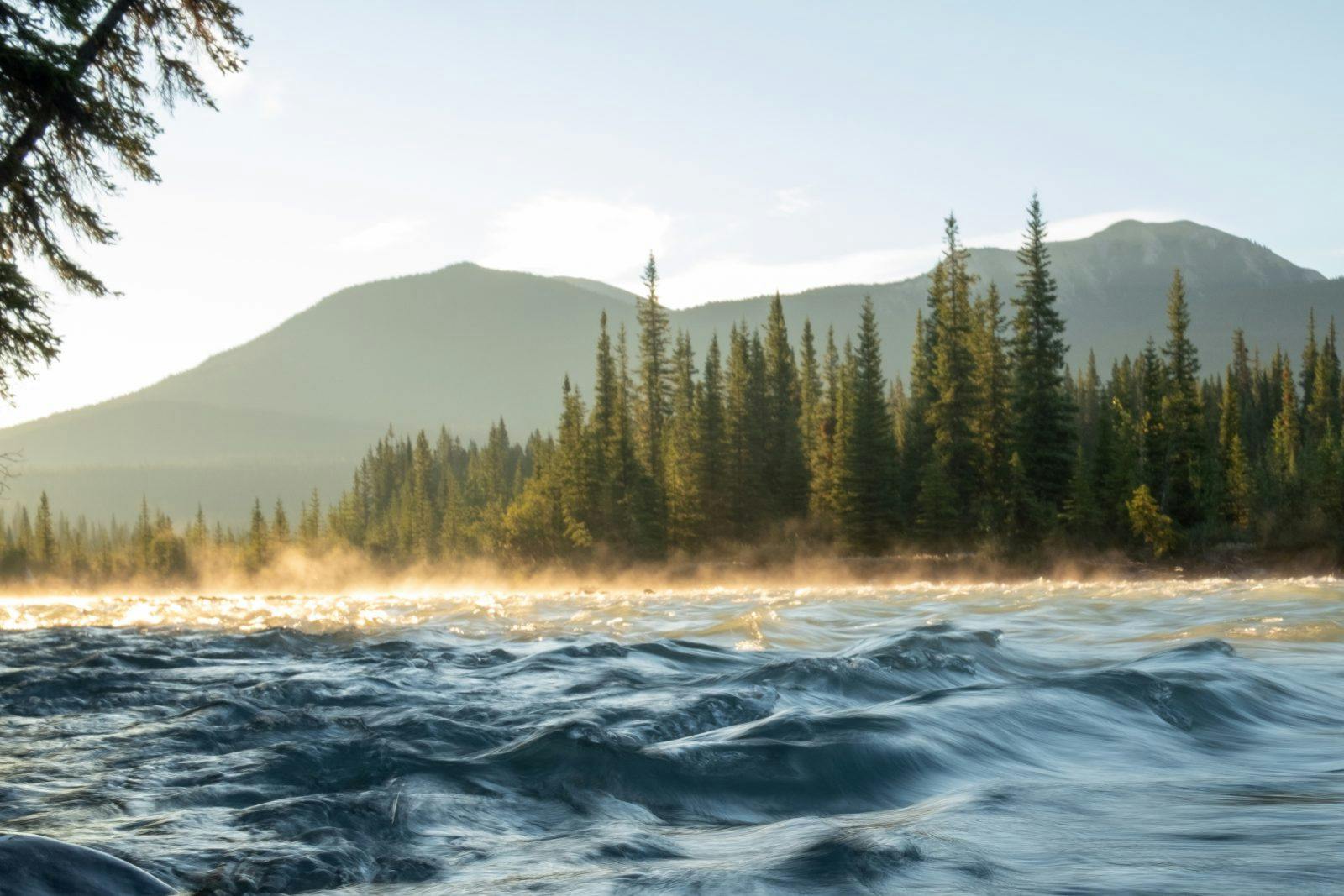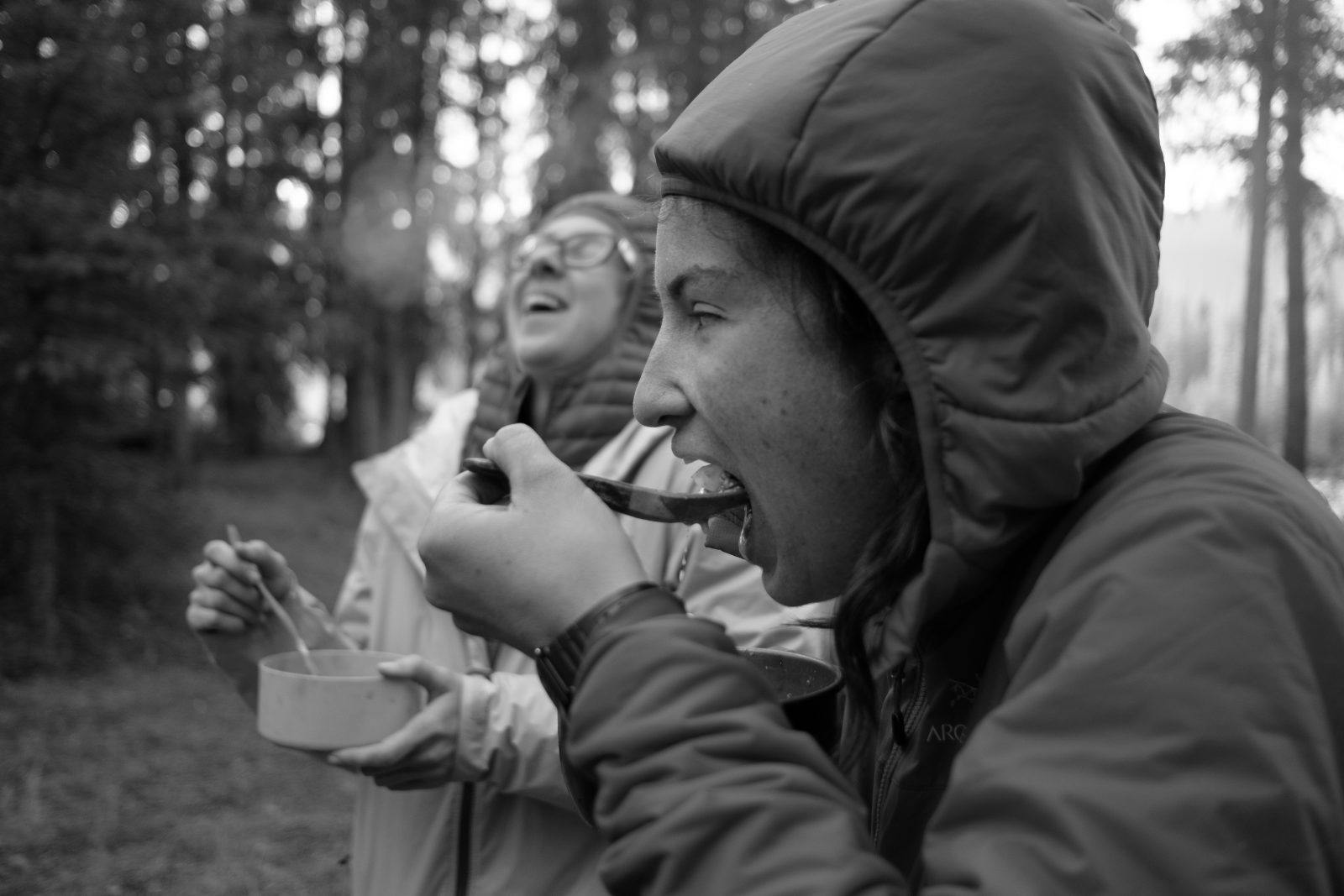 Our put in was just below Lower Welbourne Falls, not far from our campsite. We unloaded our packs and began our last transition into the boats, taking in the morning mist from the falls. We took turns playing in the boil lines at the bottom, then set off downstream for the most thrilling day of paddling I've ever had.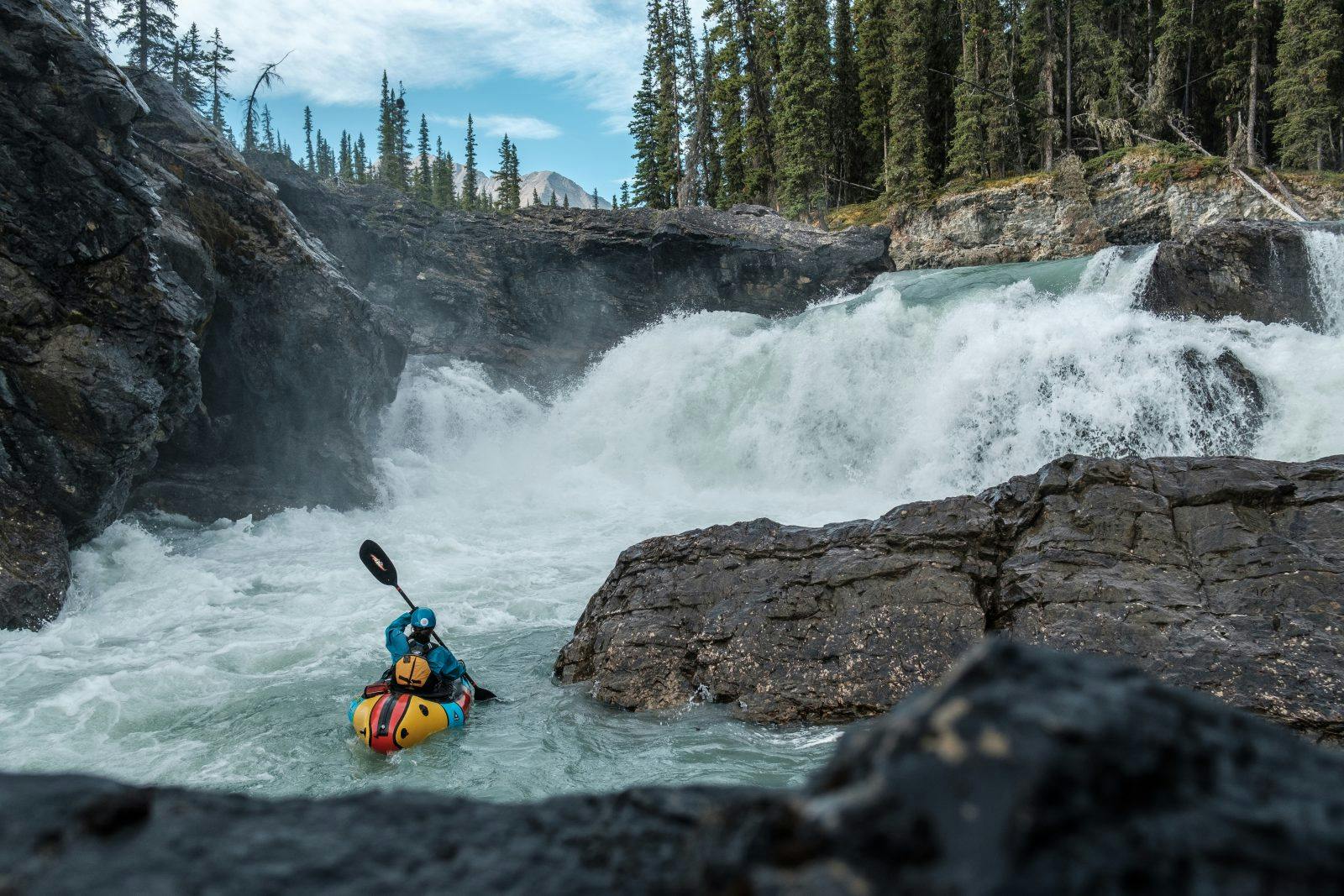 The morning flew by as we smashed through kilometer after kilometer of class two wave trains. Every bit of the river was runnable and fast flowing. "I love ice cream. But if I had to eat 70 tubs of ice cream I might die. I love wave trains. But if I have to keep running wave trains I might die" Laura laughed ever so undramatically. It is true, how quickly complacency can set it when running hours of waves, but none of us wished to be anywhere else in the world.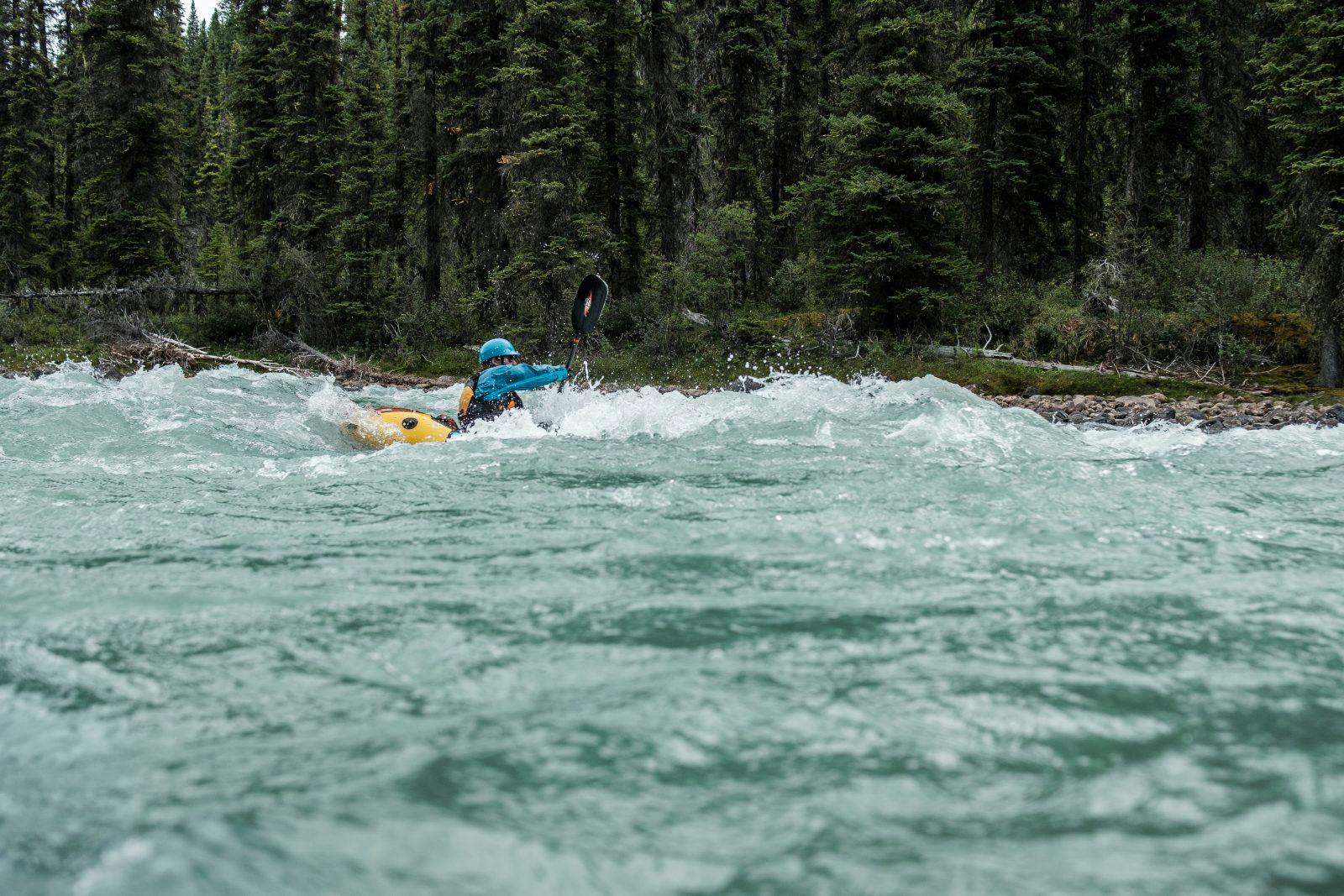 We got to Snake Indian Falls by lunchtime. The thunderous, 100-meter-high falls called for a cautiously early take out. We carried the boats down the trail and ate our lunch at the top of the falls, discussing the sanity of the few kayakers in the world who have run the ragged waterfall. Not us, so we bush bashed our way down a steep, raspberry bush clad hill to the bottom.
The river continued to morph as we paddled along. What started the day before about as wide a single lane of traffic, was now wider than a highway. Our cruisy wave trains turned into high flow rapids, pushing into cliff walls and dropping around car sized boulders. Every once in awhile we'd pause in eddies just to catch our breath, hearts racing. We traded the mountain vistas of yesterday for sheer canyons, waterfalls, and hoodoos today.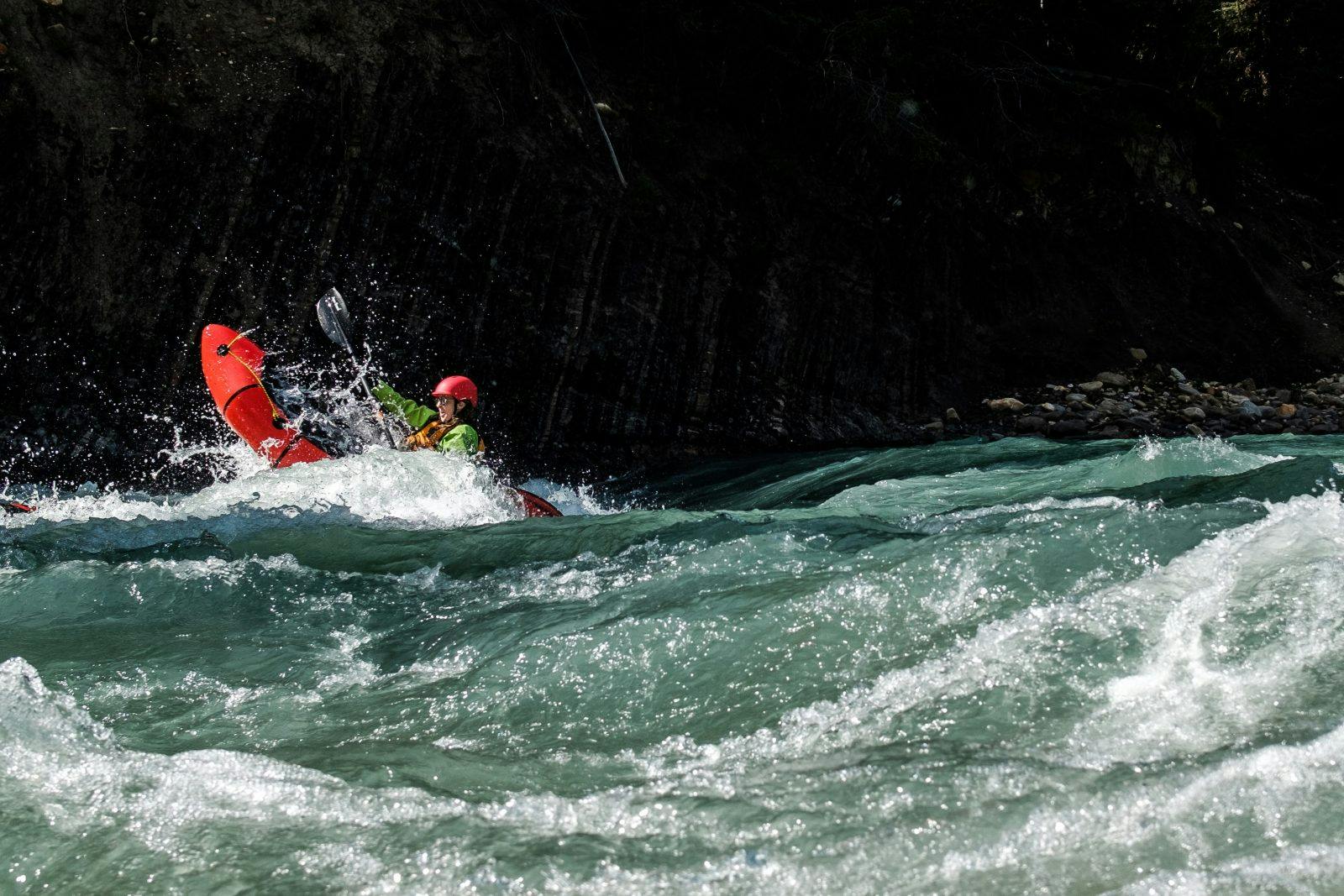 It was hard to keep track of how fast we were moving and before we knew it, a bridge over the river came into view, signaling our takeout. I wasn't ready. Just a few kilometers further, the Snake Indian River pours into the mighty Athabasca. The logistics of taking out there, a massive braided river intersection with no roads, meant we took out at the Celestine Lake Trailhead – the true end of the North Boundary Trail anyways.
We carried our boats up the hill to the parking lot in a bit of a stupor. Besides the falling darkness and the overwhelming need for mac 'n' cheese, I was also at a loss for words from finishing such a journey. The North Boundary Trail itself is an incredible path, moving from the ancient mossy forests of British Columbia, past glaciers and towering peaks to the wild valleys and canyons of Alberta. But then to be able to journey this wilderness by river brings a new connection and sense of place. Seeing the rivers each grow from glacier to stream to raging rapids made me fall in love with packrafting all over again – by no other means could we experience all facets of this adventure.