Packrafting the Grand Canyon in the Forager—This couple's self-supported adventure.
Story by: Hannah Shininger | Photos by: Hannah and John Shininger
Back in December, my husband and I entered one of the National Park's follow-up lotteries for a permit to raft the Colorado River through the Grand Canyon. Miraculously, we won. We had been granted the opportunity to take Wanda (our Alpacka Raft Forager) down the river. It was the opportunity of a lifetime. With only a week of time off of work, our plan was to start at Lee's Ferry and raft 90 miles to Phantom Creek where we would load Wanda and our other gear into our packs and hike 7.5 miles out of the canyon via the Bright Angel trail.
After orientation and check out with the ranger at Lee's Ferry, we embarked on the BIG water of the Colorado River. Now, Wanda had taken plenty of whitewater runs along the East Coast, but I don't think any number of YouTube videos, trip blogs, or #ColoradoRiver Instagram posts adequately conveyed how BIG the water in the Colorado River really is. Hitting Badger Creek Rapid (5) at mile 8 was our first taste of BIG water—and we survived! With our trusty Colorado River Map guide book by Tom Martin and Duwain Whitis, we quickly learned that the secret to a good run was to "hold on tight and hit 'em straight!"…a good line helps, too. Soap Creek Rapid (5), and a handful of riffles, prepared us for House Rock Rapid (7), which we ran successfully!
On day two we woke up at House Rock camp and headed into the Roaring Twenties! We stopped twice—once to hike at the Silver Grotto, and once to check out Redwall Cavern. It was also where we got baptized. After a few successful runs, we stopped checking our river guide and maybe got a little cocky (not the safest idea). Indian Dick Rapid (4) has a hard-to-spot lateral wave on the right side, which tossed us almost immediately. John was able to hold onto Wanda, and we were both able to swim the rapid safely. At 24.5 Mile Rapid (5) we hit a hole just right and surfed a big haystack, both building our confidence, and giving us a small taste of the big water to come. That night we stayed at Nautiloid Camp where we checked out some nearby fossils.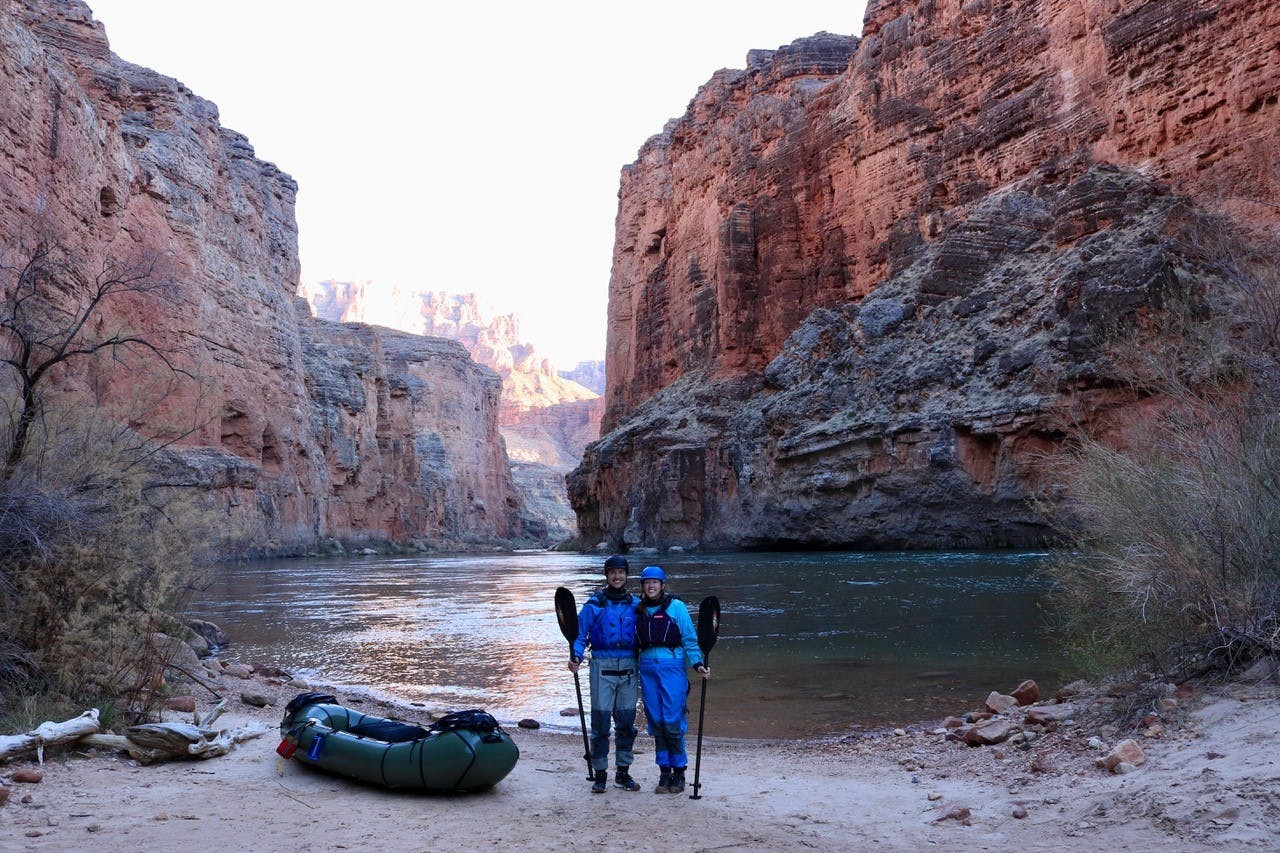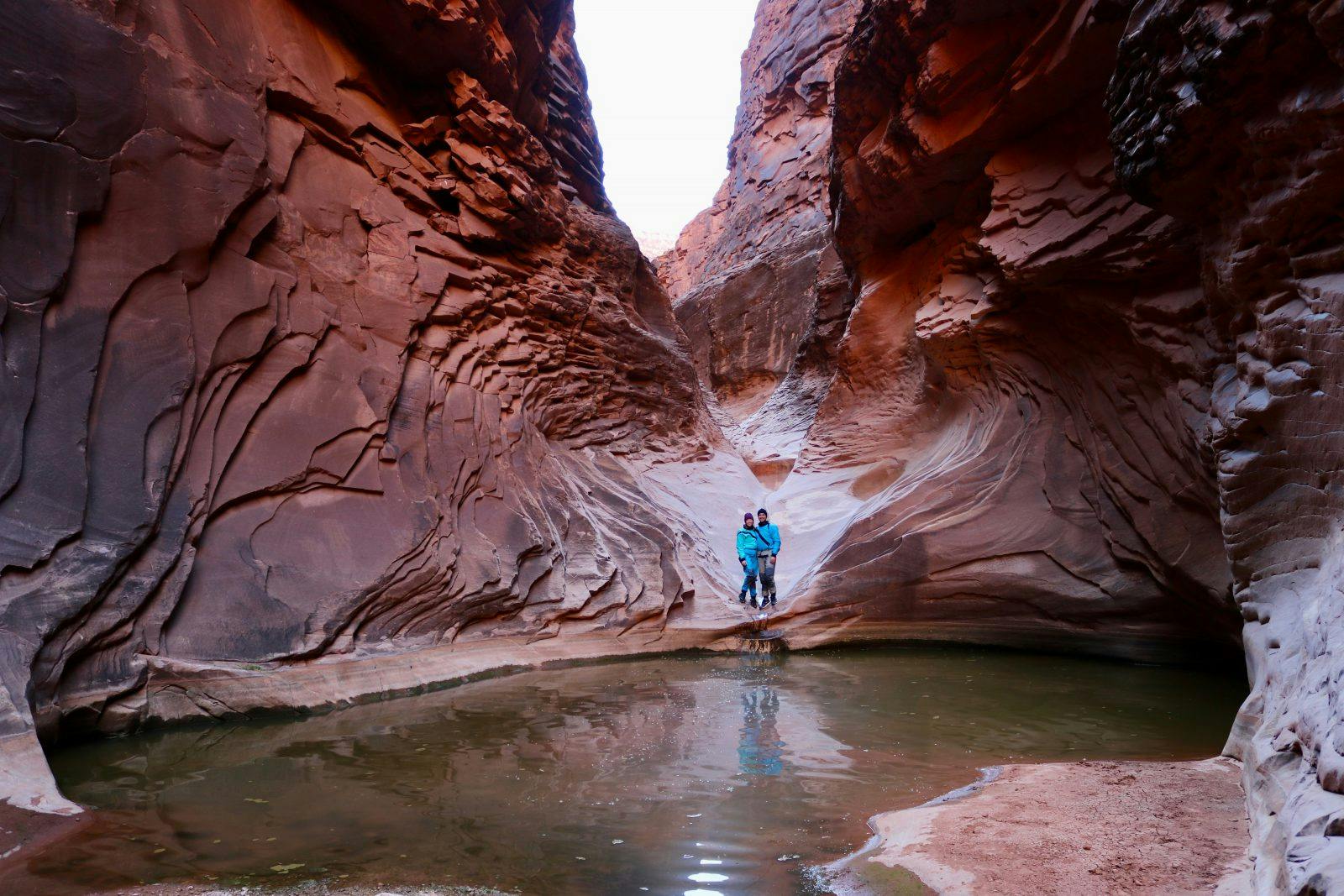 As backpackers we're used to carrying light and setting up camp wherever seems flat. The beaches along the Colorado River were some of the most pristine we'd ever seen. Every half mile, or so, we'd come across an area that looked almost too good to pass up. With a packraft, the nights at camp were relatively short. We didn't grill steaks for dinner or carry cases of beer to celebrate the day. Instead, we used our jet boil to rehydrate backpacker meals and had lunch box pastries for dessert. Our set-up and tear-down were quick, and by the end of our ~18 mile days we were exhausted enough to fall asleep pretty quickly. We were living the dream.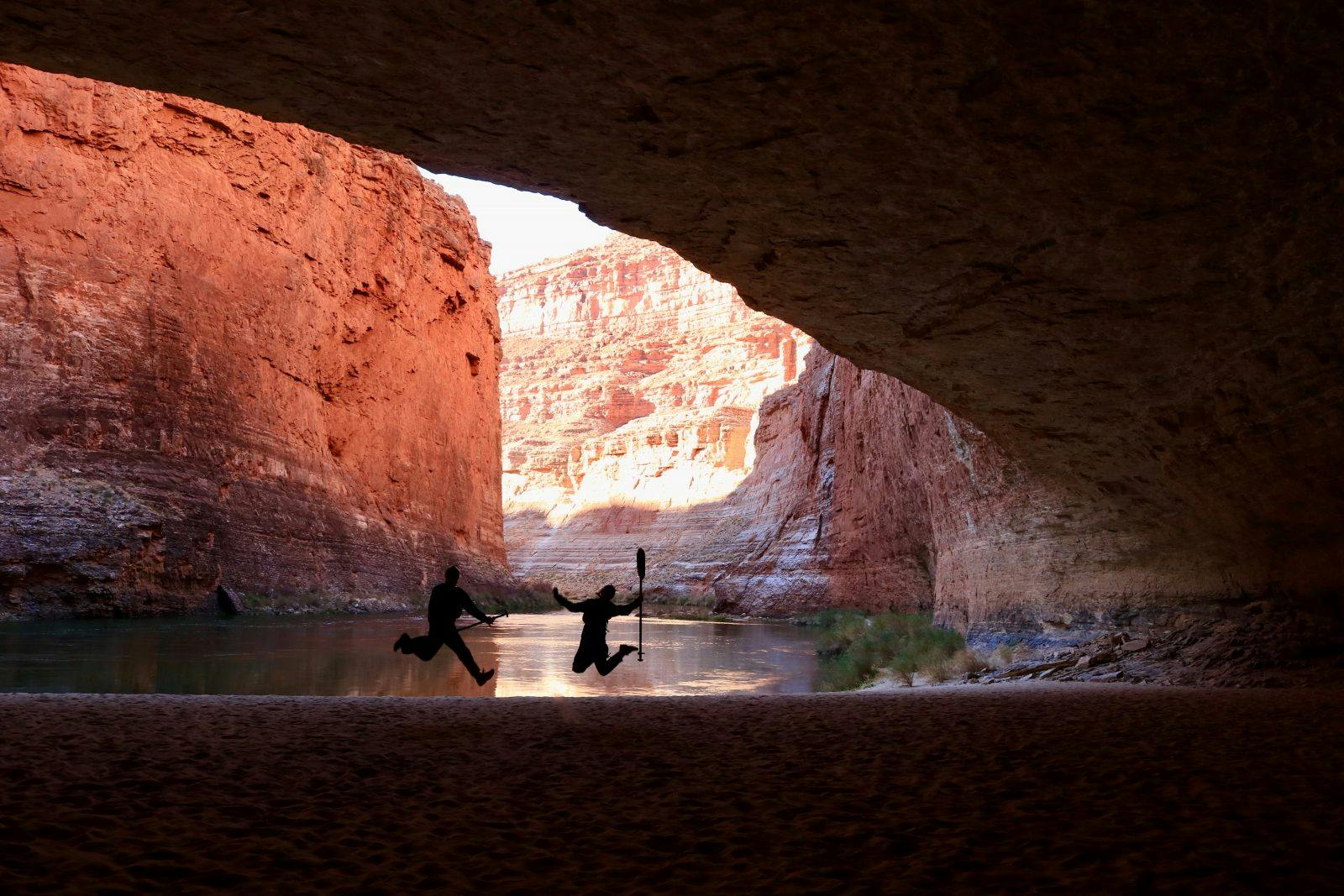 The Roaring Twenties are followed by ~40 miles of flat water. On day three we stopped at river mile 47.4 to hike back to the waterfall at the end of Saddle Canyon. We camped at Nanokoweap Camp, where we did a sunset hike up to the granaries. It's the classic "I rafted the Grand Canyon" view for a reason. Absolutely beautiful.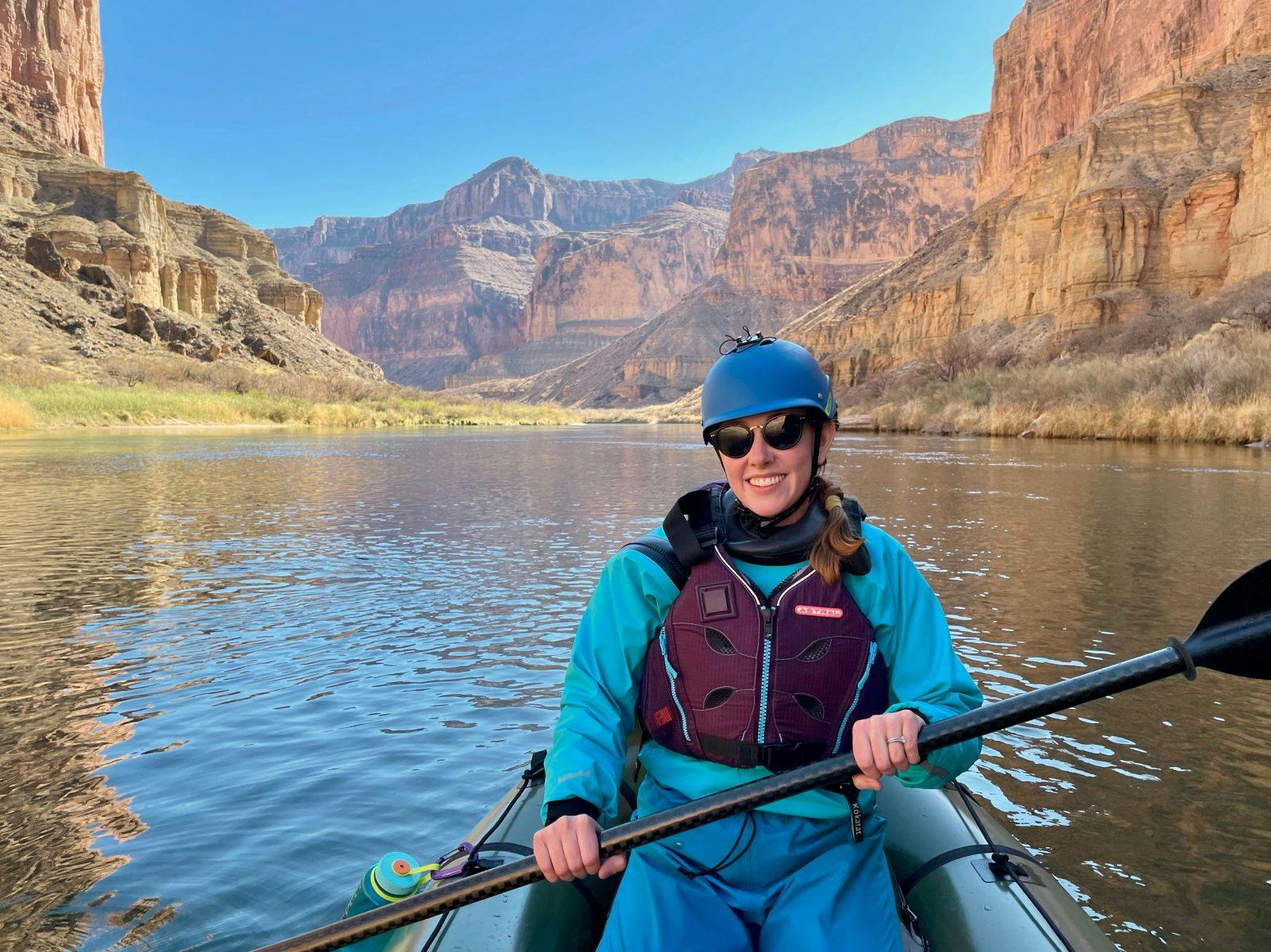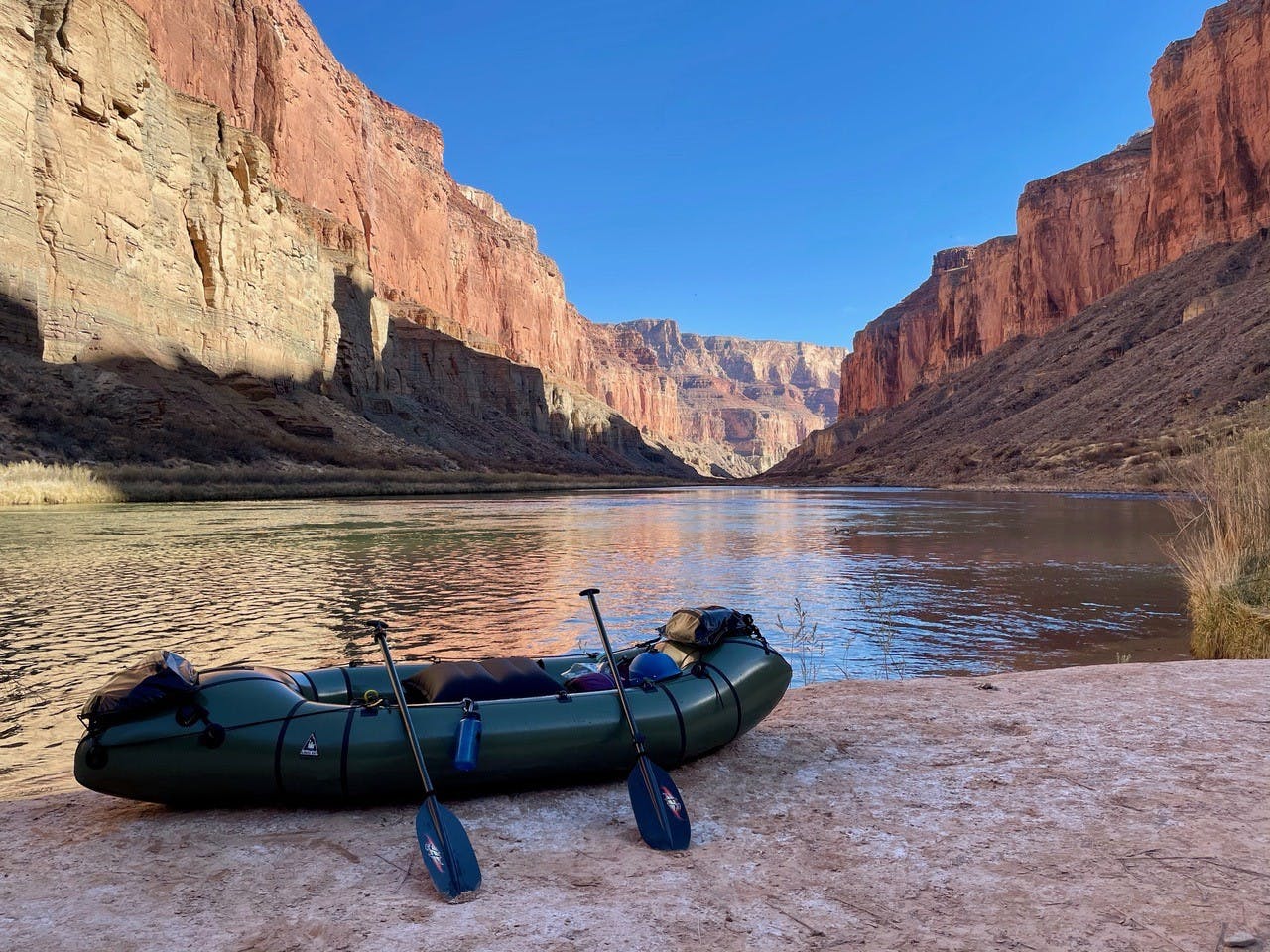 By day four we had mentally recovered from our swim in Indian Dick rapid, and were ready to take on Kwagunt (5), Tanner (6), and Basalt (6). Kwagunt didn't give us any trouble. Our run through Tanner was really good—John was able to make several sharp turns to hit a series of opposing lateral waves straight on. Basalt was mostly sleeping when we went through. The highlight of day four was definitely the Little Colorado River. The water was bright blue, and we had it all to ourselves. It seemed like a water park, honestly—the rocks were placed just so we could enjoy floating down the river. It was incredible. A few miles later, after setting up camp at the Cardenas site, we hiked to the Hilltop Ruins and Unkar Overlook to check out the next morning's challenge.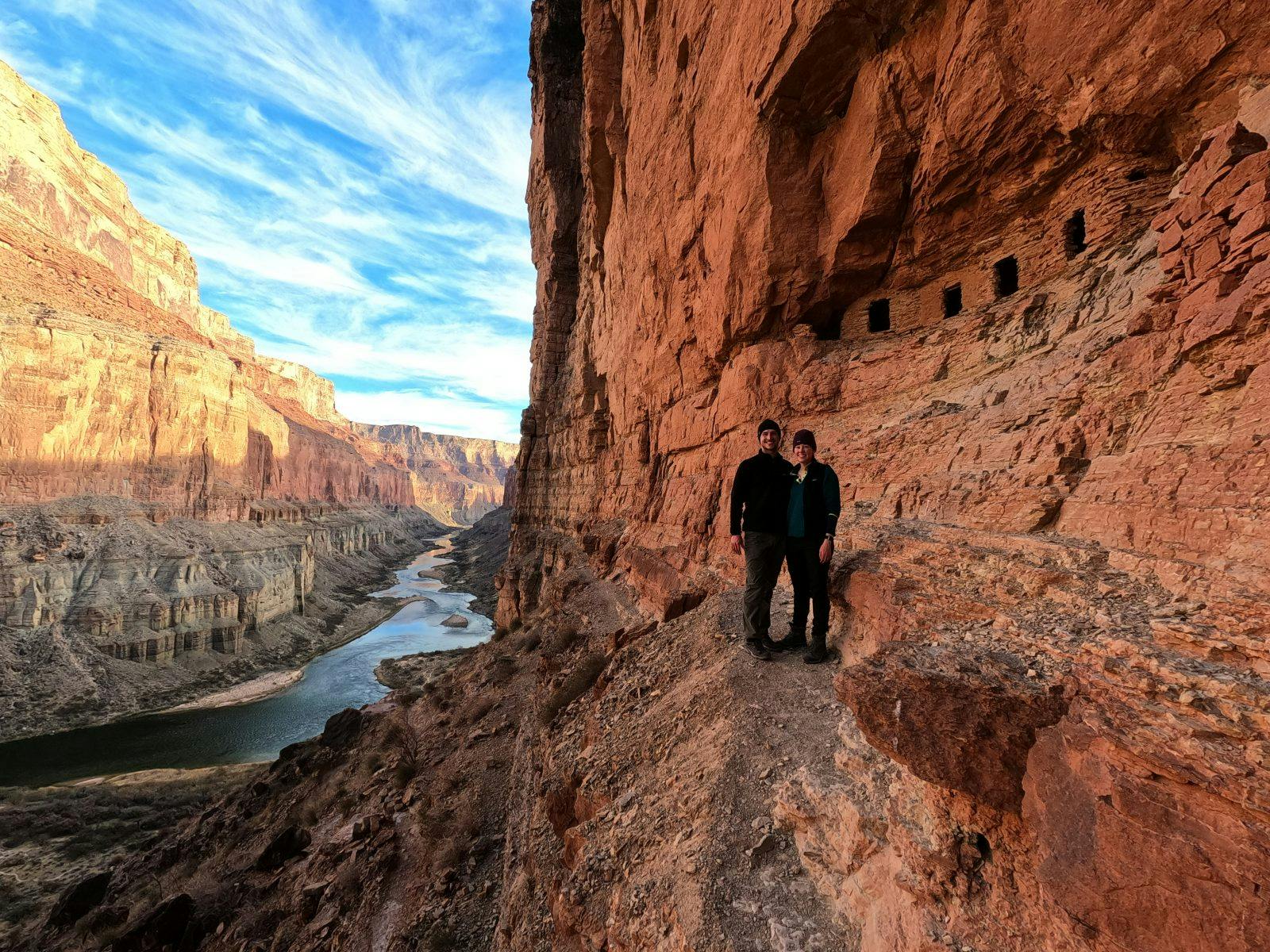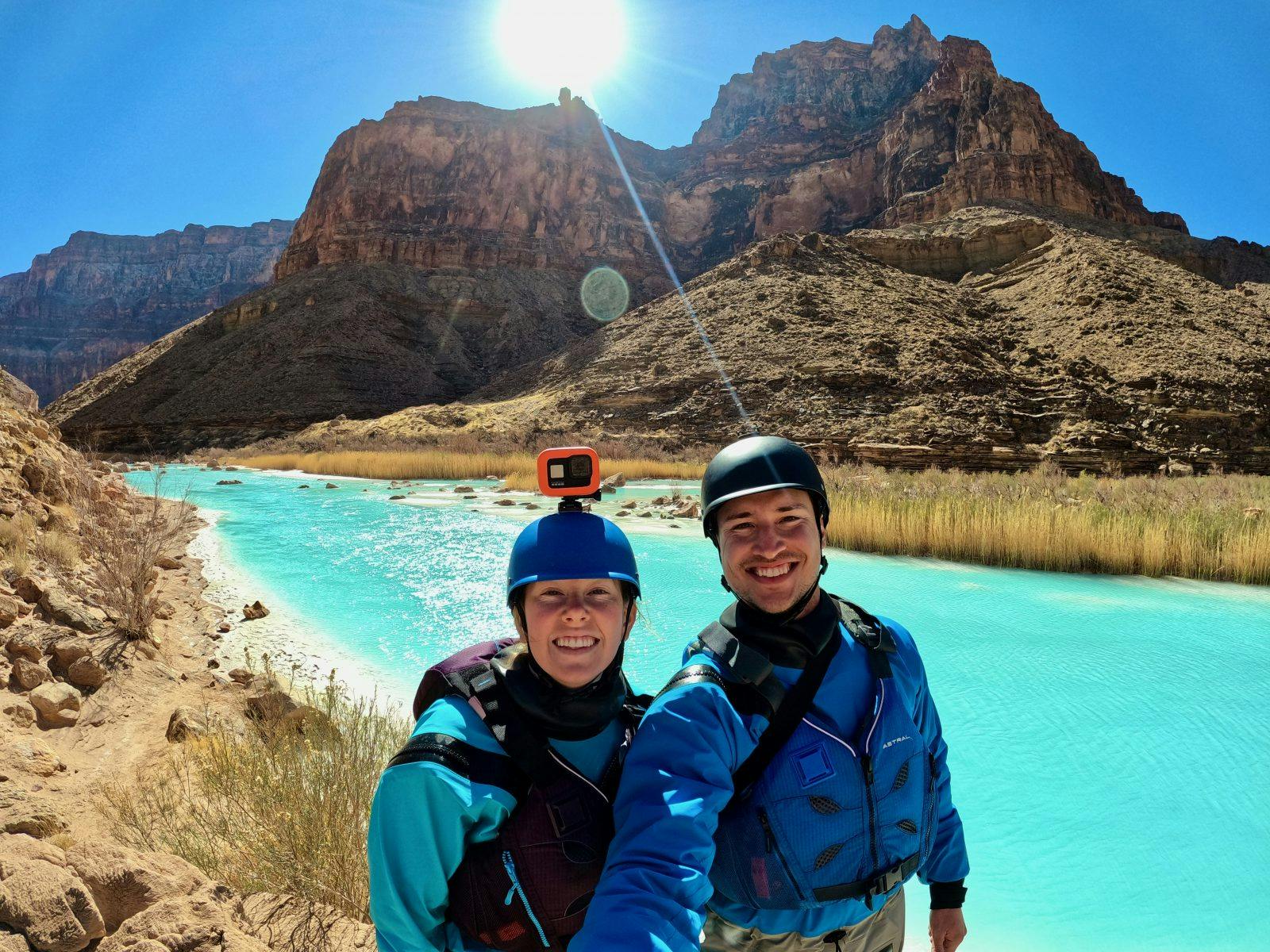 Day five started with a successful run through Unkar Creek Rapid (6). Just two miles later, we pulled off and set up camp at Upper Rattlesnake. We spent the day hiking the Tabernacle Route, and relaxing a little bit before the challenge of the river on day six—Nevills (6), Hance (8), Sockdolager (7), and Grapevine (7) all within a 10 mile stretch of river. We had studied up on our guidebook and the suggested lines, and were prepared to "hold on tight and hit 'em straight!" Nevills went well—we passed a group of big rafts, wanted to make a good impression, and succeeded! Hance was a different story. We scouted on the right, were prepared to run the right line, and were a liiiiiitle too close to the right. A huge (only visible when it's too late) lateral wave hit us almost immediately and we were toppled. Hance was not the rapid to swim. Not only did we have to swim Hance, but we swam Son of Hance. We both escaped unscathed— minus a few bruises to our egos. John was able to hold onto Wanda again, and pull her off to the side within a few minutes. I was able to get out of the water a bit before, and we were reunited on the shoreline. Once we regained our composure we hopped back in the saddle for an attempt at Sockdolager. When we had gotten our permit, one of the rangers gave us some advice for Sockdolager—we took a left of center line, going straight down the tongue. It was a good run and felt like some redemption. Grapevine went well, too. There were some holes at the bottom which we had to avoid, but it was fun, and relatively dry. We stopped and hiked at Clear Creek, which was beautiful. Zoroaster Rapid (5) was the last big rapid of the trip. The hole in the middle was surprisingly large, but we avoided it for a clean run. We passed Phantom Ranch to camp at Across from Pipe Creek Camp for our last night on the river.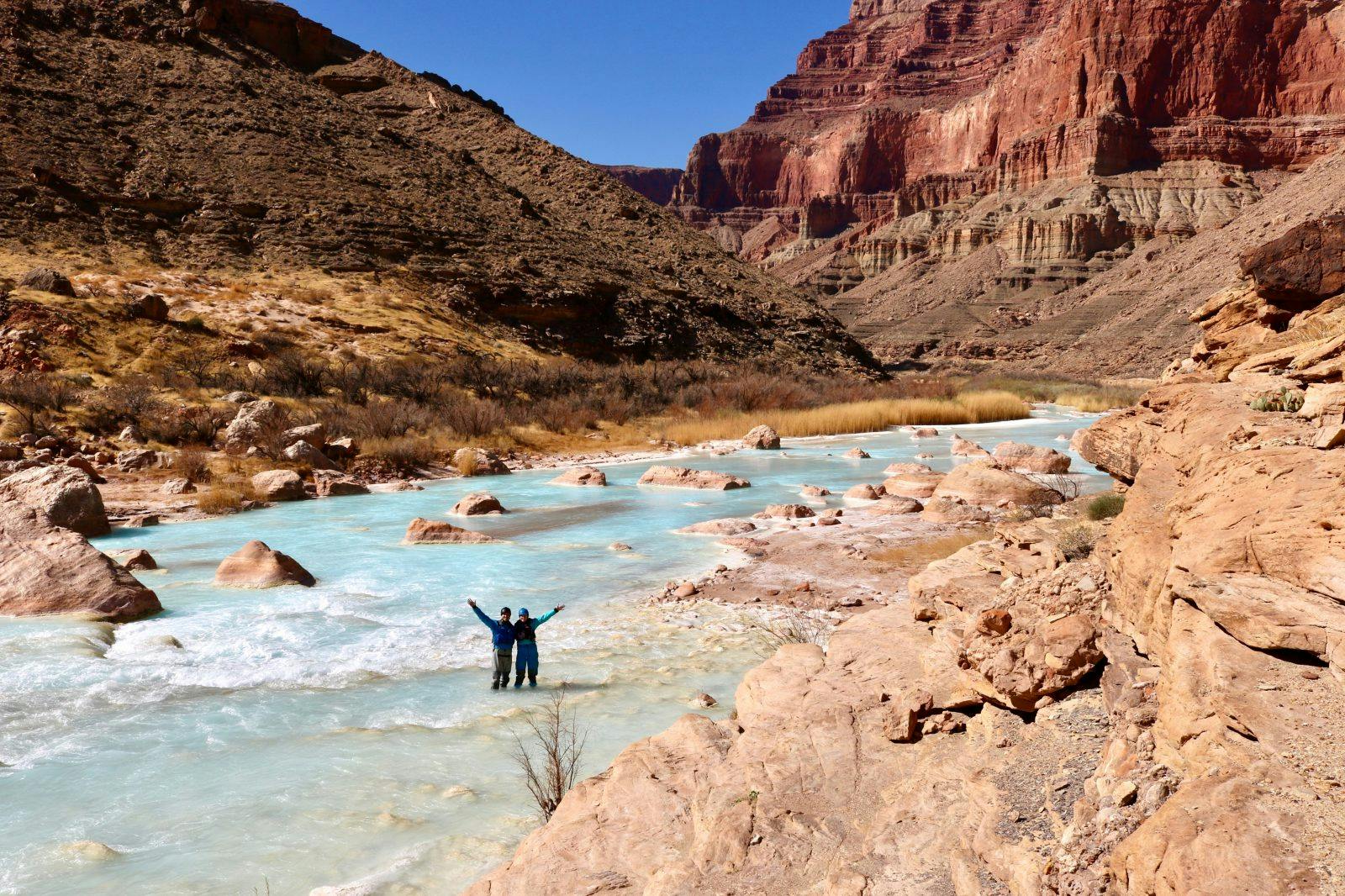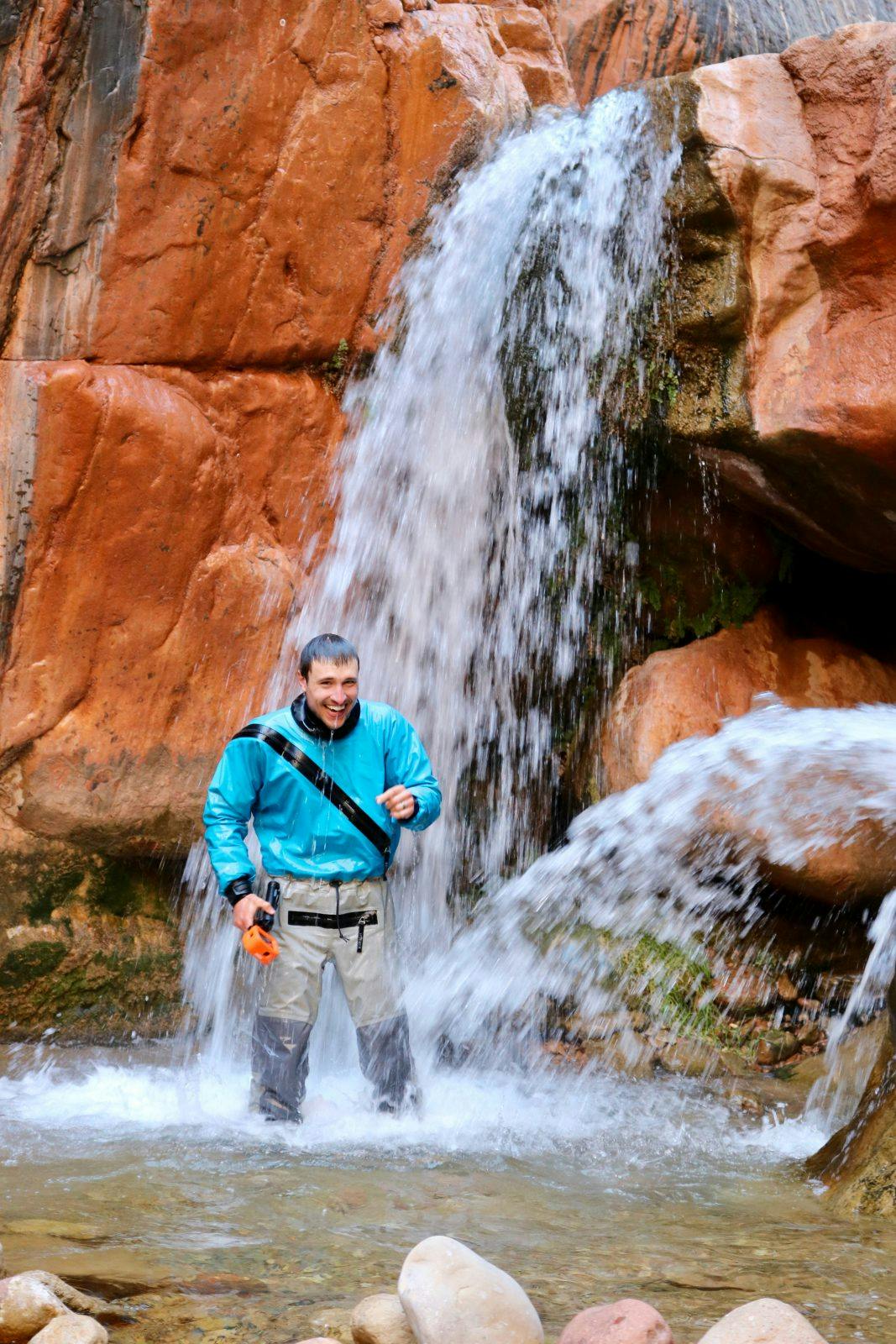 Our final day in the canyon was by far the worst—no more exhilarating rapids, no more pristine beaches, no more solitude—we traded six days of bliss for a 7.5 mile hike with 5000 feet of elevation gain, carrying 120 pounds between us. It was the hardest hike of our lives, but I would absolutely do it again for six more days on the river. There's nothing quite like the Grand Canyon, and even less like rafting the river through it.