Climb, Paraglide, Packraft: 3 Adventurers Raise Awareness for one of Europe's Last Remaining Wild Rivers

European explorers Sean Villanueva, Nico Favresse, and Tom De Dorlodot recently spent a few weeks on Albania's Vjosa River (aka the Aoös) to raise awareness for the threats to the river, including numerous proposed dams. Check out our Q&A with Villanueva to find out more about their climbing, packrafting, and paragliding adventure and why it's important to save the Vjosa. 
"These rivers need to be protected, and it's urgent." -Sean Villanueva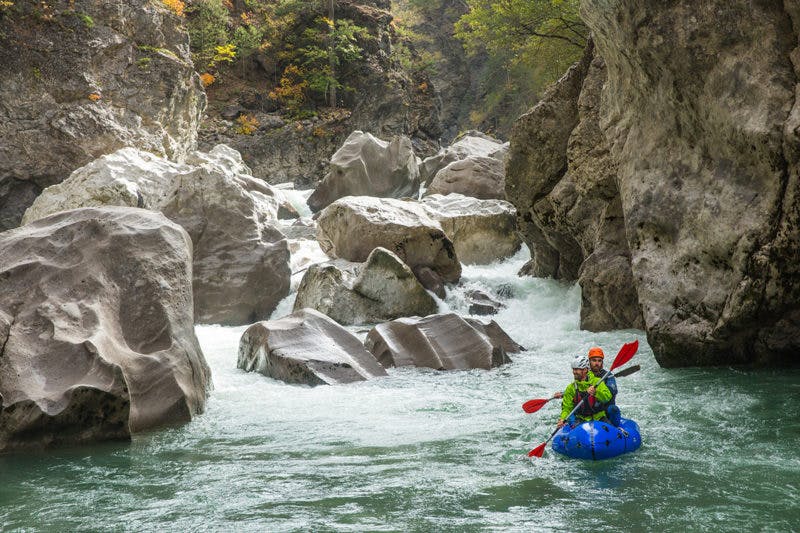 What was your adventure on the Vjosa River like this year? 
Our plan was to start at the spring of the Vjosa in Greece and packraft all the way to the Adriatic Sea, Albania, bringing along our musical instruments, paragliding gear, and rock climbing gear to enjoy whatever the area had to offer. We started the trip in October, but unfortunately we had a climbing accident near Konitsa, Greece, where Tom badly damaged his hand due to loose rock. But being the adventurer that he is, he still really wanted to finish the project so we decided to return in June. This time we started off from the accident spot and finished it to the sea.
It was a proper adventure. We packrafted the river, coming up with a mission whenever the landscape or moment inspired us. We hiked to the top of mountains and paraglided down, climbed big rock faces, sport climbed, deep water soloed above the river (climbing rock with no ropes and falling into the river), explored one of the tributary canyons, tried to meet a famous local singer to sing him a song, got haircuts, found some good local cheese or other products (not so easy when you don't speak the language), or just packrafted down the river to try to cover some distance. The people we met where extremely friendly, and though at times it was hard to communicate, they would always go way out of their way to help us. We got invited into their homes for food, coffee and raki (local alcoholic spirit). We would just camp on the side of the river, cook on the fire, living rough and getting dirty. It was very different to the rock climbing expeditions that we are used to, but it was definitely a proper adventure. We just lived in the moment, and experienced whatever came up. In Europe, we don't have so many big areas of wilderness as in North America, but this place is definitely pretty wild, and sometimes it feels like you are going back in time. It was awesome!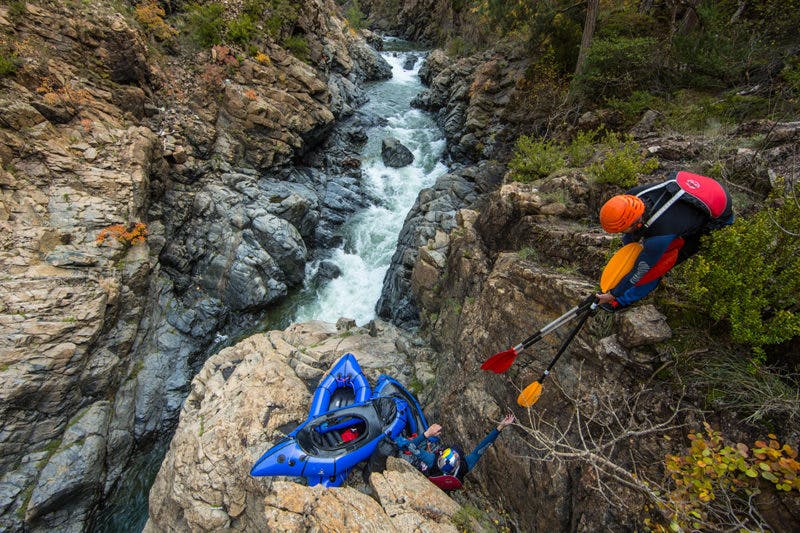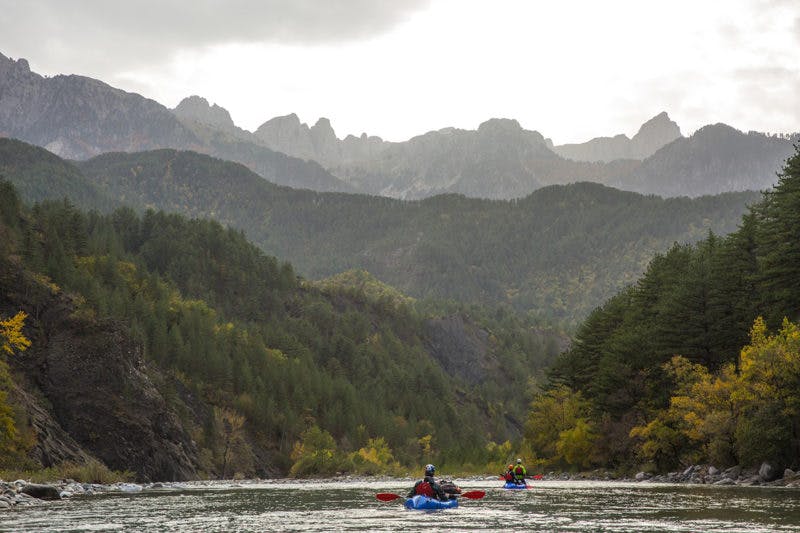 What were your biggest obstacles on this trip? Your best experiences?
One difficulties of this trip was to transport all the climbing, packrafting, paragliding, and camping gear while we were on the move and to keep all our stuff dry when on the river. The efficiency of the Alpacka rafts definitely helped with that. It was really helpful being able to keep our paragliders dry by putting them inside the tubes of the packraft.
The fact that we had very little experience kayaking or rafting made some of the rapids on the river very challenging.
Encountering rotten loose rock and choss on some of the bigger rock faces we attempted to climb was probably the biggest obstacle of the trip. Certainly dealing with Tom's accident was a trial.
One of my best memories was a day when we woke up at 5a.m., walked to the top of a mountain, had an awesome flight paragliding, met some nice people who invited us to their house for some coffee and raki, did some deepwater soloing above the river on some cool, steep conglomerate rock, continued kayaking down the river until sunset, set up camp on a beautiful beach next to the river, and then cooked food on the fire. Hiking, paragliding, kayaking, rock climbing, meeting amazing people, and wild camping — the full package all in one day!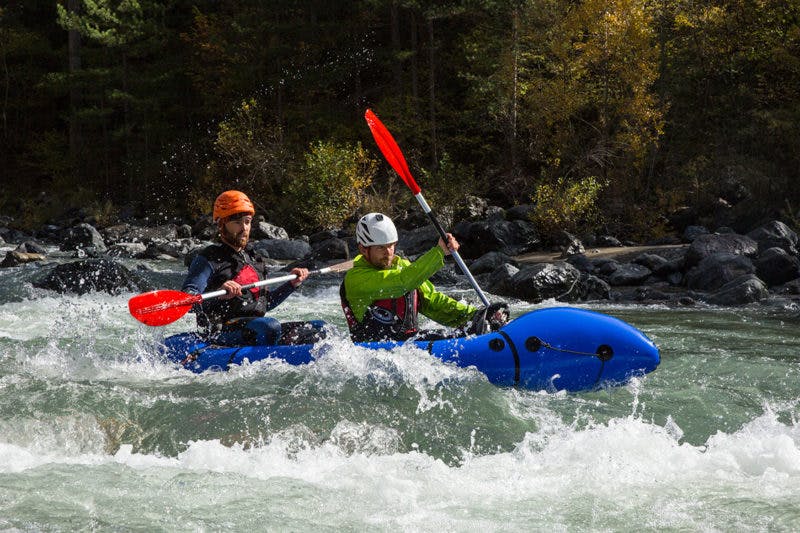 Why did you get involved in raising awareness for the Vjosa River? 
I first heard about the importance of saving the Balkan rivers to the region about a year ago through Patagonia (the company). The Vjosa is one of the wildest free-flowing rivers in Europe, said to be "the last big wild river in Europe outside Russia." It is certainly a unique and a very important heritage to save. Dams will damage and destroy the river ecosystems, biodiversity, farming, local villages. We saw a lot of local fishermen on the banks of the river; they didn't seem to be catching much, but they won't be catching anything if the river gets dammed. Activities such as rafting, canoeing, kayaking, and swimming won't be as good, and potential for eco-tourism will strongly diminish. The reservoirs that dams create seem to contribute to greenhouse gas emissions due to rotting vegetation. This is one of the reasons that dams can no longer be considered as "green energy." Dams have proven to be a lot less profitable than one would think, financially and in many other ways. It might be profitable for one or two people, but definitely at the cost for many others.
Why is there so much talk of damming the river now?
Until about 20 years ago, Albania was a communist dictatorship, closed and isolated from the rest of Europe. It seems like now big investors see opportunities in dams.
Is this a pressing issue that people need to act on immediately?
There are eight dams being projected on the Vjosa river and another 23 on its tributaries, four of which are finished and four that are under construction. This river and area is unique in Europe and these hydropower plant projects will do a lot of damage to the area. The map of the Balkans that show the 2700 hydro power plants projected to be built is a very powerful image. These rivers need to be protected, and it's urgent.
Is there really a chance the hydropower plants can be stopped?
Recently the Albanian court blocked the construction of the Poçem dam on the Vjosa river. This was the first environmental court case in Albania (Find out more by clicking here). There are so many reasons why not to build these dams, if enough people get informed and are made aware then they can be stopped.
What can people do to help?
Spread the word, donate, vote, check out these organizations: Save the Blue Heart of Europe and the Balkan River Tour campaign. You can also find out more on Patagonia's blog, or check out RiverWatch or EcoAlbania.